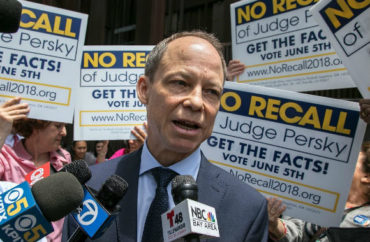 'Most judges in California would have done the same thing'
It turns out that college-related vandalism isn't limited to targeting conservative student groups and Jewish fraternities.
You can be hit if you simply oppose the recall of a judge for following sentencing guidelines and refusing to brutalize a student convicted of sexual assault.
Santa Clara County Superior Court Judge Aaron Persky is facing a recall on tomorrow's ballot – the first in more than 80 years in California – because of the six-month jail sentence he issued to former Stanford University swimmer Brock Turner two years ago. Not even Turner's victim, who was unconscious during the attack, wanted jail time for the lifetime sex offender.
The Los Angeles Times has a thorough look at how the recall campaign, led by non-lawyer Michele Dauber of Stanford Law School, has destroyed both private property and friendships, though "the legal community has largely opposed the recall" because it threatens judicial independence with mob rule and more incentives for mass incarceration.
"Emotions are so high that vandals have spray-painted over lawn signs opposed to the recall," according to the Times:
"There are many people, who have been allies on a lot of issues, who are on opposite sides of this particular one," said Santa Clara County Dist. Atty. Jeff Rosen, who opposes the recall.

Among them are Persky's wife and [Stanford professor] Sophia Yen, one of the recall leaders, who had been friends for more than 10 years, attended parties at each other's homes and whose children played together. They no longer talk. …

Yen emailed her friend two years ago to ask if her husband would resign and spare his family the "public attention/humiliation" of a recall and the prospect of recall billboards with his photograph.

Persky's wife, who the anti-recall campaign asked not to be identified because of concern for her safety, demurred.
MORE: Don't brutalize Brock Turner with jail sentence, his victim says
The subject of death threats, Persky has retreated from public visibility by working from home "as a night judge, issuing warrants and protective orders in domestic violence cases":
Persky said in an interview that he never seriously considered resigning, though he has had to beef up security at his home and be escorted into the courthouse by a sheriff's deputy through an entrance used for jail inmates.

He said he believes voters will reject the recall if they look at it dispassionately because most people want judges "who can follow the rule of law and ignore public opinion," as required by California's code of judicial ethics.

"I think it is critical to prevail because if the recall wins, it is sort of a blueprint for judicial recalls in the future," Persky said.
MORE: Mass incarceration will worsen because of mob calling for Persky's head
As prosecutor of the Turner case, Rosen criticized Persky's ruling and successfully lobbied for Turner's charges to carry the same three-year minimum as sexual assault by force. But he disavowed the cartoonish portrayal of Persky as "lenient" compared to other judges, and said "most judges in California would have done the same thing" at the 2015 sentencing.
Recall supporters and opponents are heavily divided betwee national attention-seekers and locals.
Opposing: the district's Democratic member of Congress, Zoe Lofgren; more than 90 California law professors, including 20 of Dauber's colleagues from Stanford Law; and the bar associations of Santa Clara and San Mateo counties, who know Persky well.
Supporting: likely 2020 Democratic presidential candidate Kirsten Gillibrand, the New York senator who continued persecuting a Columbia University student who was twice cleared of rape and helped fundraise for the Persky recall; "the National Organization for Women and other women's groups … and several members of Congress and the state Legislature."
Dauber received a law degree but never practiced, choosing to become a sociologist, according to the Times.
MORE: Bar association denounces recall effort against Persky
IMAGE: The Mercury News/YouTube
Like The College Fix on Facebook / Follow us on Twitter