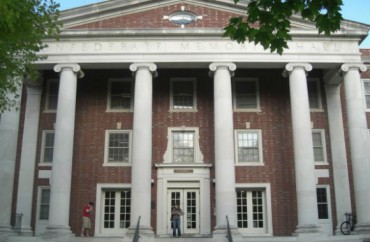 Donors stepped up to fund the settlement
Vanderbilt is so incensed by the 83-year-old inscription on a campus building that it paid more than a million dollars to get rid of it.
Eleven years after it lost a court case to unilaterally rename "Confederate Memorial Hall" – so named because of a $50,000 donation from United Daughters of the Confederacy to a college that was later acquired by Vanderbilt – the university finally reached a resolution to get rid of the name.
The Vanderbilt Hustler reports that the major impediment to settling with the Confederate group was not the inflation-adjusted sum to be repaid, but who was going to pay it:
The university will pay the Tennessee Division of the United Daughters of the Confederacy $1.2 million as a return in present value of the $50,000 the organization gave to the George Peabody College for Teachers in 1933 toward construction and naming of the building. This payment is in compliance with a 2005 Tennessee Court of Appeals decision.

"The terms under which we had to pay to satisfy the judgement and rename the building were very mathematical in some way," [Chancellor Nicholas] Zeppos said. "So the math part wasn't complex. The complexity got into a debate about whether we should use university money (for this)."

According to Zeppos, many members of the Vanderbilt community did not want to pay the Daughters of the Confederacy back using university funds. Solving this issue, a group of anonymous donors came forward and donated the money to allow for the removal of the inscription on Memorial Hall.
Zeppos claims that Vanderbilt is "not going to rewrite our history" by getting rid of the inscription, as evidenced by a new yearly academic conference on the topics of "race, reunion and reconciliation."
Like The College Fix on Facebook / Follow us on Twitter
IMAGE: Public domain