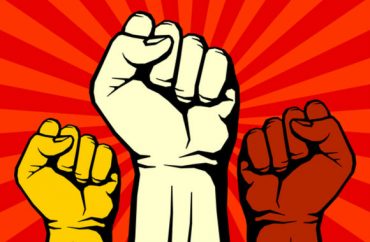 Students at Virginia Commonwealth University reiterated several demands of school officials following a professor "profiling" incident last month.
On October 27, "white Hispanic" professor Javier Tapia called campus police to verify that black adjunct Caitlin Cherry (who was working in a graduate lounge) was indeed a member of the faculty. In such cases, it seems the Politically Correct Hierarchy Handbook necessitates this ethnic/racial distinction (see: Trayvon Martin/George Zimmerman). The Commonwealth Times makes sure to note that "Hispanic and Latino are ethnicities that encompass people of any race with Latin American heritage."
VCUarts held an open forum for students to discuss the matter on November 16. VCU Equity and Access Services had conducted an investigation into the incident, but thus far has not released any details. Professors Tapia and Cherry are aware of the results, however.
Forum attendees were angry at school officials for being closed-lipped on the incident. On student shouted that administrators "are asking us for transparency when y'all are offering none."
Graduate students in Cherry's class previously had made a "list of issues" and presented several demands in light of the incident, and one student restated them at the meeting:
The student demands include VCU publicly acknowledging the incident; the creation of a mandated training to combat systems of oppression; the addition of two full-time faculty members of color to the painting and printmaking department in fall 2020; the university recognizing that the incident is not unique and strengthening the process to file claims of discrimination.

Art students from Tapia's class expressed concerns during the discussion.

"I don't want to be in a classroom where my classmates are uncomfortable," said Abby Treece, a sophomore in painting and printmaking. "I don't want my education to be in jeopardy."

Some students asked if special consideration would be made for those in Tapia's class who now feel uncomfortable being around the professor due to his allegedly racist behavior. Administrators responded that they will do everything they can for students in Tapia's class and will update the students who attended the discussion in another meeting, the date of which is to be determined.
Students also created a petition calling for Tapia to be "formally disciplined" for his actions. It reads in part:
VCU sells prospective students on our diversity. Why then, on a diverse VCU/VCUarts campus, are adjunct faculty and students of color and QTPOC being harassed by VCU employees? This incident is just one of many we've seen on U.S. college campus' where being black on campus results in dangerous confrontations with campus security, police, or school employees. Safe spaces are valued, but that is not enough alone. We deserve to feel safe anywhere on campus, all the time.
The petition got a little over half of the requested 400 participants.
Read the full Times story and full petition.
MORE: Evergreen State president kowtows to student demands
MORE: Students demand 'anti-oppressive curricular reform'
IMAGE: MicroOne / Shutterstock.com
Like The College Fix on Facebook / Follow us on Twitter