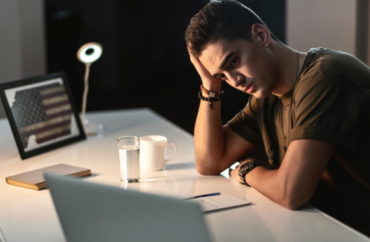 Arizona State reports include student offering chicken finger bribe, actor trying too hard
An Arizona State University student reported his instructor, a female Ph.D. student, for discriminating against him for his status as a military veteran, according to a complaint lodged with the school's misconduct reporting system in February.
The ASU misconduct reporting system differs from more common campus "bias" reporting systems in that it includes all student behavior, not simply "bias" or "hate."
Consequently, many of the reports are serious infractions that are typically handled by deans or even the campus police department, such as sexual assaults and stalking. Frequently the site is used by students to request extra time to complete class projects, including one student who claims she was drugged and another student who says she was kidnapped.
According to the veteran who filed his complaint, he was set to write a paper on military interrogation techniques, but was punished by the instructor, who was offended by his reference to "waterboarding." The complaint does not indicate that the student was arguing in favor of waterboarding, only describing it as an enhanced interrogation technique.
He accused the Ph.D. student of "allowing her emotions and ignorance of the topic to guide me in an incorrect direction and subsequently give me bad grades."
"I believe [the instructor] may be anti-war, pacifist, anti-interrogation, does not understand what interrogations actually are, etc. and is using this emotion to destroy my grade," the student wrote. He claims his project was looked at by several students and an "extremely competent professor," all of which acknowledged the "poor grading and attention to detail" displayed by his instructor.
He claims his instructor "is unsatisfactory to be in a Ph.D. program, be put in charge of other individuals, teach other individuals about a topic she clearly lacks education in, and ultimately demonstrates that she is unable to remove herself emotionally from the grading/conversation when it comes to people or topics she may not see eye to eye with."
This complaint is one of the 89 filed with the ASU Office of Student Rights and Responsibilities during the 2018-19 school year that have been obtained by The College Fix through a public records act request. The names of the individuals involved were redacted by the university to protect their identities.
According to the university, incident reports are encouraged from "students, faculty, staff, or other persons who believe that a student or a student organization may have violated the Arizona Board of Regents (ABOR) Student Code of Conduct." The reports can be made anonymously, even if they mention a specific member of the campus community.
"We assume students submitting a report have done so in good faith, and thus our approach is to gather the facts about the incident as opposed to starting from the lens of verifying the veracity of complaints," said ASU spokesman Jerry Gonzalez in an e-mail to The College Fix. Gonzalez noted that reports of stalking and harassment are forwarded to the ASU police department for additional review.
In April, a student was accused by a staff member of attempting to bribe an instructor with the promise of chicken fingers.
In the complaint, the staff member said the student first tried to bribe the instructor with $50 and "verbally suggested maybe they can help him with his grade." When this offer was rebuffed, the student offered to accompany the instructor to the campus Raising Cane's Chicken Fingers restaurant, suggesting she bring her "boo" along.
Finally, the student offered to deliver some Raising Cane's Chicken Fingers to the instructor "in return for extra credit."
The ASU campus Raising Cane's Chicken Fingers restaurant is one of 15 franchises in the Tempe area. The campus-area restaurant currently has a 3.5-star rating on Yelp, calling into question whether the chicken fingers are valuable enough to be traded for academic favors.
The offer of chicken fingers in return for better grades did not sit well with the instructor, so a fellow staff member filed the report of fowl play on her behalf.
Also in April, a male student in an acting class was reported for performing too intensely during a final exam.
"I don't know where [the male student's] head space was or what he was trying to channel for the scene but I was incredibly uncomfortable and felt very threatened through out the entire scene, which is not what we had rehearsed," the student told a faculty member, who then filed the report on her behalf.
"His physicality was more aggressive and there was a weird look in his eyes that I can't really explain, but I felt threatened by it."
The faculty member responded, telling her "I noticed a difference but I thought it was a mutual agreement between the actors to take the scene in that direction," adding, "there was more tension, which made sense."
"Being uncomfortable at times is part of the normal acting process, but feeling threatened is inexcusable," said the faculty member, saying they were "required to report it."
Other incidents reported to the school include:
· In December a group of three students was caught filming internet prank videos among the book stacks in Hayden Library. One of the pranksters reportedly approached a female student pretending to need help finding a book and asked her if she wanted "to bang." After he produced an energy drink from his jacket, she noticed the two other students filming the interaction and notified campus police.

· In October, a student reported two fellow students who had posted a SnapChat photo of themselves drinking alcoholic beverages in their dorm room.

· In November a professor was reported for constantly telling a group of females in the class to stop talking and listen to the lecture. When one of the women in the group asked the professor a question, he said, "you would have known the answer if you stopped talking." She accused the professor of being "sexually biased" against the women, saying he had "hindered" her learning by "mocking me in front of the class."

· A drunk student vomited on a friend's laptop, apologized and said he would pay for it. He never did.

· During a physics exam, a student asked their professor how to calculate the area of a circle. The professor said it was "scary and idiotic" that the student didn't know, and did it in a "very condescending tone."

· On a January Saturday afternoon, a female student was at home doing her nails in front of a window in her room. She posted an Instagram poll, and four hours later received a response from an older man that said "cute pedicure." When she asked him where he got that information, he replied "IDK," and she blocked him.

· When some workers at Barrett Dining Hall were having a conversation in Spanish, another co-worker walked up and said, "don't be gossiping in Spanish because not everyone can understand your language." A student taking part in the conversation confronted the woman, who claimed sometimes she "just joked with them like that." In the complaint, the student said this was not "the type of environment the students should be in."
The ASU misconduct reporting form has been available since October of 2018. According to Gonzalez, since the online reporting form is a function of the Office of Student Rights and Responsibilities, there are no direct added costs to run the program.
IMAGE: Drazen Zigic / Shutterstock
Like The College Fix on Facebook / Follow us on Twitter