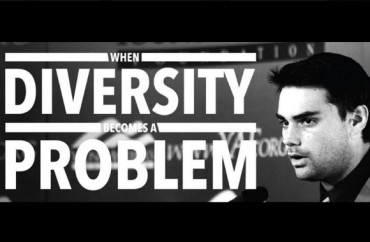 California State University-Los Angeles does not want another Ben Shapiro situation.
In a short video released by Young America's Foundation Thursday afternoon, President William Covino and others spitballed ideas for keeping conservative speakers such as Shapiro from coming to campus.
YAF said the video was taken from a May 17 public "healing space" to discuss the aftermath of the Shapiro event. Spokeswoman Emily Jashinsky told The College Fix the full 40-minute video was being uploaded.
Covino tells the audience that he "would have never invited Ben Shapiro to campus. Never!"
Since Shapiro's invitation and funding came from students, "shouldn't we think about a kind of policy or process or set of criteria that the students get behind, and say for future events, for us … as a student body to support an event, it's gotta have these elements," Covino says. "I think that process would be helpful for us."
RELATED: VIDEO — Violence erupts as protesters block entrance to conservative's speech at public university
Yet Covino also says he that expects the university's YAF chapter to host similar events in the future. "Very tragically and unfortunately we're in a kind of climate nationally and locally in which this kind of provocation [conservative ideas] is encouraged," he said.
Asked by another audience member if the school can keep people from bringing guns to campus for conservative events, Shapiro replies "are you thinking we should have a screening process?"
CAUGHT ON TAPE: CSULA staff call @BenShapiro a "neo-Nazi," plot to censor conservatives.https://t.co/TU971T8JBE

— YAF (@yaf) May 26, 2016
Prof. Melina Abdullah, chair of the Pan-African Studies Department, went the furthest in demonizing Shapiro, who is Jewish.
RELATED: Cal State LA allowed rowdy, aggressive students to shut down conservative speaker, lawsuit claims
Calling Shapiro part of the conversation about "anti-blackness," Abdullah continues: "Even if you decided you're going to let this neo-Nazi on campus, right – and I get he's Jewish so that's ironic that I'm calling him a neo-Nazi, right, but that's basically what he is, the equivalent, a neo-KKK member, let's call him that, right?"
Abdullah's students tell her they are "feeling traumatized, feeling brutalized, physically emotionally and mentally," she said.
The release of the video follows a lawsuit against the university by YAF, alleging that CSULA censored Shapiro by not stopping students from blocking entrances to the theater where he spoke, so that few people could get in.
RELATED: Scenes from a campus mob showdown: Decidedly not a safe space
Like The College Fix on Facebook / Follow us on Twitter
IMAGE: California State University-Los Angeles