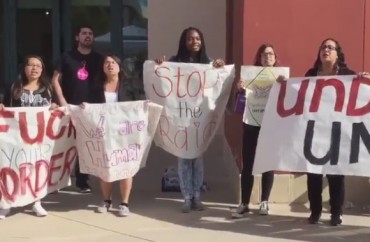 'This is a very triggering event for people,' says one UCSB protestor 
SANTA BARBARA – A cadre of University of California-Santa Barbara students took to the quad Thursday to protest the participation of U.S. Customs and Border Protection recruiters at a campus job fair, loudly chanting "f*ck your borders, f*ck your walls" among other slogans.
The 50 or so student protestors who lined the outside of the campus building hosting the career fair held aloft a large banner stating "Undocumented Unafraid," and also chanted "Hey hey, ho ho – CBP has got to go."
"We do have undocumented students here on campus who are at potential risk," said UCSB graduate student Idalia Robles in an interview with The College Fix. "This is a very triggering event for people in those circumstances. There is no space on this campus for an organization that continues to threaten the safety of students."
A video taken by a College Fix reporter shows students continuing to chant similar slogans – sometimes in English and other times in Spanish – as the demonstration continued into the afternoon.
Several students declined to be interviewed by The College Fix, but the group appeared to include a mix of members from several student organizations on campus. Robles said demonstrators had mostly converged to show solidarity with undocumented students.
"This event is a university endorsed event, right? And there is the presence of Customs and Border Patrol. We are in a Hispanic serving institution. One of the concerns that are very present in the Chicano-Latino-Mexicana community is that of immigration and the abuse of power at the hands of immigration officers," she said. "[A]s someone committed to social justice, I know that this is something crucial."
Students at the public university were notified Monday via email about career fair participants, along with a statement by U.S. Customs and Border Protection.
The CBP statement read:
"Uniformed CBP staff will be on site with the sole purpose of providing students with information about a broad range of career opportunities. The CBP personnel will be attending in a recruitment capacity."

"CBP recently launched a national recruiting strategy to aggressively recruit women, minorities, veterans, and college students."

"Current openings entail not only frontline law-enforcement positions, but also a variety of administrative, professional, and technical functions."
The protest had begun inside the career fair, but The College Fix was informed by observers that the crowd had been moved outside. Once outside, the protest continued.
"CBP detains people without adequate legal aid in horrible conditions where prisoners are often abused and violated. Is that what you want as your employer?" shouted one protestor into a megaphone.
"Shame!" the crowd replied.
The statement issued by U.S. Customs and Border Protection indicates its officials may have expected the uproar. Last fall, after students complained about the planned presence of border patrol agents at a similar job fair at UC Irvine, the agency backed out of participating in that event.
RELATED: Students demand Border Patrol booted from campus career fair, call officers unsafe and offensive
The protest at UC Santa Barbara occurred on the same day that UC President Janet Napolitano announced more than 3,000 undocumented undergraduate students would now have access to a system-wide student loan program funded by taxpayers.
"By reducing barriers and expanding access to higher education for undocumented students, the University of California is investing not only in the future of these students, but also in the future of our state and nation," Napolitano stated in a news releasing announcing the California DREAM Loan Program.
The initial $5 million for the program is equally funded by the University of California and state general funds appropriated to UC, the statement added.
Like The College Fix on Facebook / Follow us on Twitter