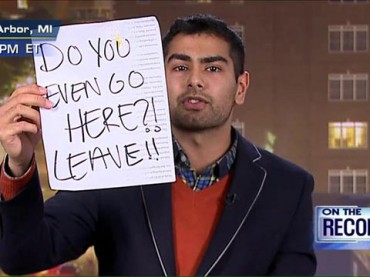 University of Michigan student Omar Mahmood, whose hilarious sendup of campus identity politics got him fired from the Michigan Daily and targeted for vandalism, talked to Fox News host Greta Van Susteren tonight about his ordeal.
The College Fix has covered Mahmood's plight and the Daily's justification for terminating him – that he "mocked the experiences" of Daily staff and minorities on campus. (Mahmood is a conservative Muslim.)
Mahmood tells Van Susteren that the Daily is the "mainstream" campus publication, but at an "American liberal college campus" like Ann Arbor, "we know we mean leftist, often radical leftist."
He says he's gotten "hundreds of emails from liberals, from minorities, saying 'you know, you did nothing wrong,'" and that in conversations with the dean, "they understand that it's a very leftist climate."
Mahmood says the campus climate against open dialogue was exemplified by the university's communications department chair writing a column saying "it's okay to hate Republicans," as The College Fix reported.
Like The College Fix on Facebook / Follow us on Twitter
IMAGE: Fox News