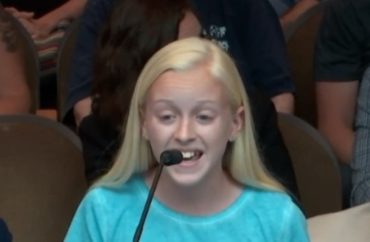 'Are you choosing to be like the plantation owner flogging the little black child?'
A 13-year-old girl caused quite a stir at a city council meeting when she compared abortion to slavery in an impassioned speech that elicited consistent jeers from adults.
Addison Woosley implored the city council of Raleigh, North Carolina, and implored to adopt a sanctuary policy for children in the womb.
In a Facebook video of Woosley's speech by Jason Cantrell, who wrote that it was his first city council meeting, the girl makes several statements declaring abortion to be murder.
The situation got particularly dicey when Woosley compared the abortion industry to slavery, asking the council members if they were "going to be the slave owner or the abolitionist?"
She continued: "Are you choosing to be like the plantation owner flogging the little black child? Or are you going to protest even if it is going to cost you your life, like Martin Luther King Jr.?"
Her comments drew ire from a number of onlookers, including a pair of black women who began yelling at her for what they deemed as disrespectful comments following the young girl's comparison of abortion to slavery.
One of the black women suggested that Mayor Pro Tem Corey Branch shut down the 13-year-old out of racial affinity – because "you are a black man," The News & Observer reports. "You need to stand up and recognize." (The newspaper also has video of Woosley from the front.)
Branch rebuffed the suggestion: "[E]veryone who signs up has a right to speak. That is the rule of the land. I can't come up here and say you can speak or you can't speak."
The Facebook video shows another attendee who attempted to stop the cameraman from filming the incident, until security escorts her out.
Woosley's comments before the council was part of a series of speeches by anti-abortion protesters during the open comment portion of the meeting, according to the News.
The last speaker, David Buboltz, wore a T-shirt that showed an image of a human fetus with the caption "I'm going to be murdered tomorrow."
One city council member, Stef Mendell, turned her back to Buboltz during his speech, to which Buboltz responded that "it is disgusting that you would turn your back on us and on these babies."
The anti-abortion speakers brought several children with them, at least one of whom was "crying silently" during the commotion, according to the News. The newspaper said it was at least the third attempt by pro-life activists to demand a sanctuary-city policy for children in the womb at a council meeting.
Students for Life of America issued a press release on Woosley's speech, saying that although she got a somewhat cold reception, "the majority of young people are pro-life."
It pointed to a recent College Pulse poll that found fewer than a quarter of college students support abortion in so-called hard cases: rape, risk to the mother's health, "severe" fetal abnormalities, partner violence and partner absence.
The polling firm chose not to highlight those results in its publicity materials, however. College Pulse instead focused on the 78 percent of college students who said abortion "should be legal in all or most cases," without being asked about specific cases.
Watch the video and read the News coverage.
MORE: Survey firm hides findings that show college students like abortion restrictions
IMAGE: The News & Observer screenshot
Like The College Fix on Facebook / Follow us on Twitter