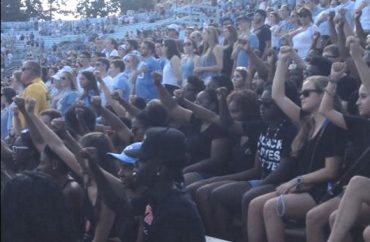 CHAPEL HILL, N.C. — As the football game between UNC Chapel Hill and the University of Pittsburgh kicked off on Saturday, roughly 30 student protesters remained seated during the national anthem in response to the death of Keith Lamont Scott, who was shot and killed by police in Charlotte earlier in the week.
A video taken by The College Fix shows that, prior to the game, the protesters intermittently chanted: "No justice, no peace." As the crowd rose at Kenan Memorial Stadium for the national anthem, the throng of student demonstrators — seated in the student section of the arena — sat down on the bleachers and raised their fists.
All wore black, many with slogans on their shirts such as "Black Lives Matter." Behind them, a sea of UNC fans donning light blue and white stood, raised their hands over their hearts, honored the anthem, then cheered at its conclusion. Similarly, the protesters rose and cheered after the anthem, too.
The student protesters were not shouted at, the crowd of mostly students around them appeared to remain respectful of their protest. Someone muttered "so disrespectful," but there were no obvious shouts or catcalls.
Watch the video:
Saturday's demonstration at UNC's football game marked the second time in two days students have weighed in on the shooting death of Scott, a black man. On Friday afternoon, UNC students participated in a "Die-In," laying down in the Student Union in silent protest. They then headed to the center of campus and gave a series of speeches.
It was at the Die-In that Jerome Simpson, a student from Charlotte, announced the plan to protest at the football game, the Daily Tar Heel campus newspaper reported.
Protesters met Saturday at Morrison residence hall an hour before the game. There were approximately 30, all dressed in black. Simpson took a moment to highlight the ethnic diversity of the crowd, which was largely African-American but was also well-represented by other ethnic groups.
Speaking to the protesters before they left for the game, Simpson told everyone he wanted them stay respectful during the anthem, saying "this is not about the national anthem." The protesters were told not to talk or get on their phones during it, but simply sit and lock arms.
He also warned them to expect a negative reaction: "It you can't deal with being called a n****r, don't walk in those gates. Because that is what will happen."
But observers of their protest could hear no name-calling.
Last Saturday, a handful of Tar Heel football game attendees also sat while the national anthem was performed, but this was before Scott's death. At the time, news reports attributed their actions to the movement launched by San Francisco 49ers quarterback Colin Kaepernick, who refuses to stand as the anthem's played, citing racial oppression in the United States.
MORE: WATCH — Protesters hijack conservative student meeting, call them 'white supremacists'
Like The College Fix on Facebook / Follow us on Twitter