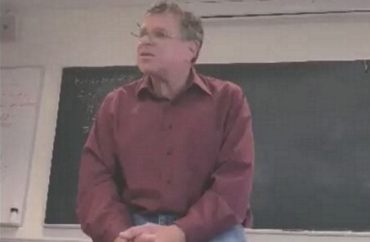 A math professor recently went on a tangent in class, telling students that this is the "scariest" presidential election he's ever witnessed and that students should vote for the candidate who does not detest women and immigrants — a clear jab at Republican candidate Donald Trump.
While careful not to use Trump's name, nor Hillary Clinton's, it was apparent Mount Holyoke College math Professor Peter Rosnick was critical of Trump, telling the young women at the all-female college to "vote for someone who thinks women are full and capable and responsible and intelligent beings who should not be the object of, um, should not be objectified," according to a video of the comments obtained by The College Fix. 
While Rosnick insisted he was not telling students who to vote for, he used common Democrat talking points against Trump as he spoke to students on Oct. 21 about the upcoming election.
"I am in the very unusual situation where my father was an immigrant and my children are immigrants," he said. "Vote for whoever you want, but vote for somebody who respects the fact that this is a country built on immigrants — that this is a country that couldn't, that wouldn't be what it is if it wasn't for bringing immigrants into our nation and respecting them and respecting what they bring to our country."
He went on to urge students to vote for the candidate who wants to "hold people together" and not the one who wants to "pull people apart."
"I'm kinda being cute about it but I'm not feeling this is funny," he said. "This is the most serious election in 48 years that I've been voting, so do the math, right?"
He ended his comments to his class by saying he was done "proselytizing" to them.
One student in the class who spoke to The College Fix on the condition of anonymity said she did not feel Rosnick should have made the comments he did.
"I find it highly inappropriate for a math teacher to use my class time to try to tell me who to vote for," she said.
But it's not the first time Rosnick has let his personal ideologies influence the classroom. On a math test earlier this month, Rosnick framed word problems that pushed his belief in man-made climate change.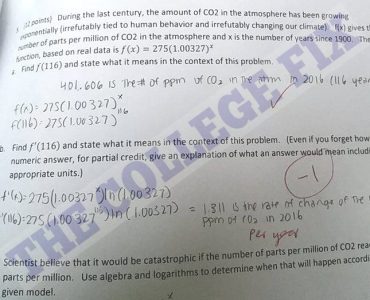 "During the last century, the amount of CO2 in the atmosphere has been growing exponentially (irrefutably tied to human behavior and irrefutably changing our climate)," one problem read. Another question stated noted scientists believe the Earth would be put in a "catastrophic" state if CO2 continued to increase in the atmosphere.
Mount Holyoke is one of many partner institutions that Rosnick has influenced through his work as the director of the Sustainable Agriculture and Green Energy Education Center at Greenfield Community College.
Using "green" educational materials, provided by the national Sustainability Education and Economic Development Center, "SAGE embeds social equity into coursework and leans on partnerships with local non-profits to devise community and service-learning projects and activities," according to their website.
In a 2014 webinar about the program, Rosnick described his goal with the center as promoting "science, civic responsibility and workforce development," and it is all developed "with an eye towards environmental and civic responsibility and social justice."
Rosnick and Mount Holyoke College did not respond to requests Wednesday from The College Fix seeking comment.
MORE: Professors tell students: Drop class if you dispute man-made climate change
Like The College Fix on Facebook / Follow us on Twitter