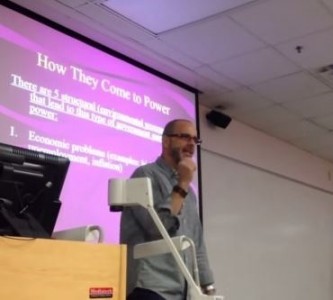 A South Texas College professor was caught on video comparing the Tea Party to Nazis, The Blaze reports, citing a video taken by a student in the class.
"The student responsible for recording the comments, who asked to remain anonymous, identified the professor as Dr. Blake Armstrong," The Blaze reports. "The video was recorded during a Nov. 17 class and uploaded on YouTube the same day."
Not only can the professor can be heard saying that Tea Party members are like the Nazis, he also said that at some point people realized, "Oh, these Nazis are a bunch of nuts," just like people today have realized "these tea party people are a bunch of nuts."
The student who took the video told The Blaze that the professor frequently talks trash about Christians and Republicans.
Under the video, the student posted this description: "I began recording after he called Senator Ted Cruz a bastard for using the last name 'Cruz' to win the election."
Like The College Fix on Facebook / Follow us on Twitter
IMAGE: YouTube