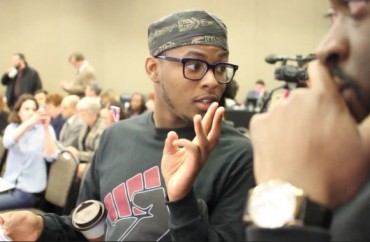 UPDATED
Concerned Student 1950 says Melissa Click 'understands the First Amendment'
A meeting of the University of Missouri Board of Curators was disrupted by members of Concerned Student 1950, who demanded that Communications Prof. Melissa Click be reinstated.
The board suspended Click last week over her behavior with the media during a Concerned Student protest that followed the abrupt resignation of University of Missouri System President Tim Wolfe in November.
The black-led activist group released a statement demanding she be reinstated and promised to achieve this by "any means necessary."
Members of Concerned Student shouted at students studying in the Student Center Thursday afternoon before protesting in Speakers Circle, where they confronted several passing tour groups for 15 minutes.
Protests interrupted the Board of Curators meeting twice.
Chairwoman Pam Henrickson banged her gavel as protester Kendrick Washington restated Concerned Student's demands from October. About two dozen demonstrators stood by forming a wall in front of a door to the meeting.
Last week The Missourian reported that Andrea Fulgiam, an original member of Concerned Student 1950, said Click was "just being protective. I don't feel like she did anything wrong."
RELATED: Melissa Click suspended by Mizzou days after assault charge
On Thursday protesters doubled down on those claims.
"When it really came down to it, she was there protecting people," said another unidentified participant.
#ConcernedStudent1950 is stopping tour groups and listing racial issues at Mizzou @mutv23 pic.twitter.com/0SFzBefN4f

— Danny Konstantinovic (@Dannykons) February 4, 2016
"I stand with Melissa Click," shouted Click supporters as they returned to the Student Center.
University barreling toward financial crisis
The board meeting Thursday was busy assessing the damage to its credibility caused by its handling of protests this fall.
It will potentially lose $20-$25 million in tuition and stands to lose much more in state funding, all the way from a "haircut to no funding," from lawmakers angry about Mizzou's weak-handed management of student protests.
A report Monday by Standard & Poor's lowered the four-campus system's credit rating from stable to negative. The report mentioned racial upheaval that had inflicted a severe drop in enrollment of new students.
A media diversion
Concerned Student has traditionally shunned media exposure. Instead the group favors platforms such as social media and local media, where it can more easily shape the narrative. Thursday was no exception.
Minutes into the protest, some members of the media had already become an unwelcome presence. The group told a reporter for The Missourian to stop recording video. Protesters huddled outside the board meeting used signs to shield themselves from media cameras.
Missourian reporter being blocked from recording footage by #ConcernedStudent1950 protestors. pic.twitter.com/LXhGWiUzFx

— Mark Kim (@MarkJKim_) February 4, 2016
After disrupting the Curators' meeting for the first time that day, the group attempted to misdirect the media into believing that another protest was occurring elsewhere. Some media departed to that location.
RELATED: Ex-Missouri president claims it faced 'Ferguson-like event'; campus to get more police
After the protest, the group arrived at the Multicultural Center in the Student Center where the group asked members of the media to leave.
"Can we guys ask the media to leave?" asked an unidentified member of Concerned Student. "Because technically we can't have media in the building without approval." The office of The Maneater student newspaper was located next door.
One member of the group read aloud a text message from Click thanking them for their participation.
EDITOR'S NOTE: The author filed an assault complaint against Melissa Click for her behavior toward him at the Concerned Student 1950 protest on public property in November. Click agreed to community service and probation in return for the city prosecutor dropping the charge.
UPDATE: New video of Click's supporters standing outside the Board of Curators' meeting has been added.
Like The College Fix on Facebook / Follow us on Twitter
IMAGE: YouTube screenshot