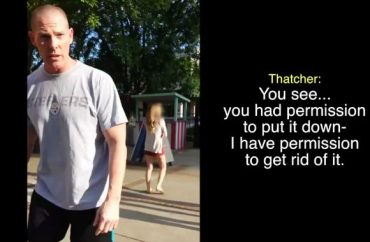 UPDATED
'College campuses are not free speech areas'
In order to get his class to erase pro-life chalking that was expressly permitted by Fresno State University, a public health professor falsely claimed pro-life students could only chalk in a "free speech zone" that was eliminated two years ago, according to a new lawsuit.
Confronted by the Students for Life chapter at the public university after they caught his students wiping away their display, Prof. Gregory Thatcher was caught on video claiming that his students were simply exercising their own free speech by censoring the chalking.
The suit personally targets Thatcher as a "government official" for violating the pro-life students' First and Fourteenth Amendment rights, asking a federal judge in California to issue an injunction and force Thatcher to pay their legal fees.
According to the suit, Thatcher confronted SFL President Bernadette Tasy while she and member Jesus Herrera were initially chalking "positive, life-affirming messages" on May 2:
When Miss Tasy informed him that Plaintiffs had permission, Defendant Thatcher stated that he would return shortly to erase their messages. True to his word, Defendant Thatcher returned with a group of approximately seven to ten Fresno State students. Acting at his direction, these students erased, obscured, and defaced Plaintiffs' messages. One of them even stole Plaintiffs' chalk and used it to write pro-abortion messages on the sidewalks. When Miss Tasy confronted him, Defendant Thatcher personally erased Plaintiffs' chalked messages while absurdly proclaiming that "college campuses are not free speech areas."
The video shows the confusion of Thatcher's students over the state of the law in general. They falsely claim several times that it's "illegal" for Tasy to record them in a public space as they vandalize another group's permitted display and argue with her.
MORE: Public university officials 'just following orders' by removing pro-life chalking
When Thatcher appears, he repeatedly claims the pro-life students must express themselves only in the "free speech area" and justifies his and his students' behavior by Tasy and Herrera's choice to chalk on the sidewalk.
As he wipes away the chalk with his shoe, Thatcher tells Tasy: "This is our part of free speech. Do you disagree with our part of free speech?"
Adopting Thatcher's argument, Tasy turns it against him: "You're exercising your free speech in a non-free speech area."
The university changed its policy to allow freedom of expression "in all outdoor spaces on campus" in its revised "Time, Place and Manner of Free Expression Policy," according to the lawsuit, which was brought by the Alliance Defending Freedom. (It appears to be referring to this July 2015 document.)
The suit says Thatcher "nevertheless assigned himself the role of student speech censor, a one-man taxpayer-paid heckler's veto over student expression that differs with his own views."
It also accuses him of harassing and intimidating Tasy and Herrera, asking the court to block him or anyone acting on his behalf from "interfering, disrupting, or altering" the club's future lawful expression.
"No university professor has the authority to roam the campus, silencing any student speech he happens to find objectionable and recruiting students to participate in this censorship," alliance lawyer Travis Barham said in a statement. "Like all government officials, professors have an obligation to respect students' free speech rights."
A university spokesperson provided a statement to The College Fix, credited to President Joseph Castro, that did not mention Thatcher:
Fresno State supports and defends the right of students to free speech and the peaceful expression of ideas on campus. The university's policy is clear: free speech on campus is not limited to a 'free speech zone' or any other narrowly defined area. Universities have an obligation to encourage the free expression of ideas, values and opinions.

The students who wrote the chalk messages received prior university approval and were well within their rights to express themselves in this manner.

Those disagreeing with the students' message have a right to their own speech, but they do not have the right to erase or stifle someone else's speech under the guise of their own right to free speech. We are reviewing this matter and take the situation very seriously.
The spokesperson said the university would have "no other comment or interviews until further at this time."
The Fix has asked Thatcher to comment on the lawsuit and his alleged behaviors.
Read the lawsuit and alliance statement, and watch the video.
UPDATE: University President Joseph Castro released a statement backing the pro-life students' right to express themselves and telling Thatcher's students they "do not have the right to erase or stifle someone else's speech." The statement does not mention Thatcher. The article has been amended accordingly.
MORE: Vandals remove chalking for ex-abortionist's talk at U. Colorado
Like The College Fix on Facebook / Follow us on Twitter
IMAGE: Students for Life of America/YouTube