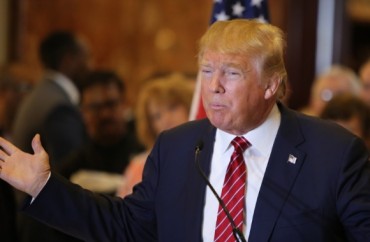 Video shows Muslim woman, protesting man escorted out of Trump rally as supporters yell, cheer
ROCK HILL, S.C. – Donald Trump's campaign stops are known for creating controversy, and the Republican presidential contender's visit to Winthrop University on Friday night was no exception.
A Muslim woman dressed in a white hijab and bright turquoise dress sat directly behind Trump, and stood up during his speech to protest his immigration stance. As she was escorted out, the crowd erupted in cheers, but the removal prompted criticism as well.
"I think we all benefit from different opinions and backgrounds, so kicking her out was not conducive to the public atmosphere," Akhil Singh, who attends UNC Chapel Hill and attended the rally, told The College Fix.
But others told The Fix the woman's form of expression was uncalled for and exemplified the type of gestures that contribute to Trump's rise in popularity, that perhaps voices stifled by years of political correctness have finally met a leader that taps into their frustration.
"A lot of people think the same thing,"  Nate Rambo, a student at Winthrop University, said of Trump's immigration stance, "but they won't say it, and they try to hide."
The Muslim woman escorted out, Rose Hamid, was not the only one who was kicked out of the rally for breaking its rules of decorum, which recognized a creed to First Amendment rights but also made clear of intolerance toward any form of protest inside the rally for security reasons, instead citing a free-speech zone outside the auditorium.
Among the cheering and applause came intervals of protests, which triggered an aroused crowd to chant "Trump! Trump! Trump!"- cuing security to remove the dissenters.
One man who started yelling and booing during Trump's speech was quickly escorted out as the crowd yelled "Trump, Trump" at him. He defiantly yelled back as he walked out.
Another man had to give up his "Donald Trump Loves Nickelback" poster, which apparently is a new, humorous form of protesting candidates. A security guard quickly confiscated his sign.
But supporters far outweighed protesters.
A long line snaked across the quad prior to the start of the event as some 6,500-plus waited to enter the arena, eventually packing the venue to its fire-code capacity. The town's small size was unaligned with the large crowd that came out to see Trump and most certainly testified to the fervor that Trump says he sees at each of his campaigns.
Almost immediately after Trump walked out to "Eye of the Tiger," the crowd broke out in clapping and cheers of support. The hour-and-a-half long speech kindled a unified sense of rejuvenated spirits with uplifting "USA!" chants and waving Trump signs and American flags.
The Republican presidential frontrunner called for more national security and a restoration of the American Dream. When Trump asked the audience questions like "Who's going to pay for the wall?" the crowd responded "Mexico," almost always synchronized.
Even as opposition groups and individuals continue to make disruptions at Trump's events and evoke attention from the media (headlines Saturday blared "Muslim woman gets kicked out of Trump rally — for protesting silently"), thousands still gather to attend his rallies.
Trump's numbers don't lie, and his outspoken statements certainly don't deny his truthful thoughts. While he's faced many hits and blows by the media, the polls continue to rank him as the top presidential candidate with the people.
Although adults made up most of the audience in the rally held at Winthrop University, many college students came out to show their support for Trump too, professing an appeal to his honesty and courage to speak out.
"I really like how he's honest," Rambo told The College Fix. "A lot of college students think that's a bad thing because he's too outspoken, he's too loud, the list goes on. But he's honest. Even if I don't agree with everything he has to say, I really respect that he goes out and speaks the truth."
Like The College Fix on Facebook / Follow us on Twitter
MAIN IMAGE: a katz / Shutterstock.com