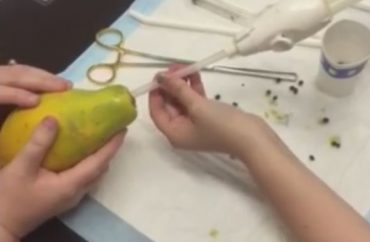 UPDATED
Got their pro-life opponents blacklisted by Loyola, too
An unofficial abortion-rights group at a Catholic university hosted a "papaya workshop" last month that showed students how to perform abortions using a tropical fruit.
Students laughed as a Loyola University Chicago medical student apparently guided another student through a mock abortion, as seen in video posted by Students for Reproductive Justice on Facebook.
"Ooh!" the student exclaims as a papaya seed gets sucked into the tube. Several more seeds are visible on the table in the video – previous "abortions."
Aspiration abortion uses suction to end a pregnancy up to 10 weeks, and it's "very similar to sucking the seeds out of a papaya!" the Facebook post reads.
MORE: Catholic university provost sits on abortion clinic's board
The workshop's goal was to "destigmatize abortion in general" and show that it's a "simple medical procedure." Another mock-abortion workshop is scheduled for next semester.
Students for Reproductive Justice isn't just giving students a preview of their future careers in abortion. It's showing them how to lobby for policy change, recently convincing the Loyola administration to remove pro-life resources from the campus Wellness Center.
Its next goal: getting the Catholic university to provide free abortion pills on campus.
'Medically inaccurate information'
The abortion-rights group celebrated its victory last week, changing the cover photo on its Facebook page.
It reads: "WE WON!!! The Loyola Wellness Center has removed the crisis pregnancy center Aid for Women from the resources on their website." It claims that Aid for Women offers "medically inaccurate information" on abortion.
In a mid-September campus march, Students for Reproductive Justice called for more access to contraception – a position at odds with Catholic teaching.
"We want to create an on-campus environment where all sexualities and sexual choices are not only acknowledged but have a way to be safe and validated," Jena DiMaggio, a member of the group, told the Loyola Phoenix.
Students for Reproductive Justice handed out condoms to students on Sept. 2 and Sept. 16, but the administration told them to do it off-campus during the second demonstration, according to an op-ed by DiMaggio Sept. 28.
The op-ed listed the group's demands of Loyola, including access to "male and female condoms as well as numerous other forms of contraception without deception," as well as "educational resources for abortion and contraception."
Students for Reproductive Justice also demanded the removal of Aid for Women from the Wellness Center resources page, which Loyola did soon after, as evidenced by an archived Sept. 14 version of the page.
MORE: Catholic college gives top billing to abortion-rights icon
Aid for Women is a Chicago-based organization that runs six "pregnancy help centers," providing "emotional, practical and spiritual support" to women with "unexpected and difficult pregnancies," including a 24-hour hotline. It also offers two types of housing for pregnant women who might otherwise have abortions because of family or spousal pressure, homelessness or fear of dropping out of college.
All services are provided free of charge. Aid for Women was founded in 1978 "on the faith and teachings of the Catholic Church." Among its high-profile supporters is Alveda King, the niece of Martin Luther King, Jr., and frequent pro-life speaker.
It's not clear what Students for Reproductive Justice considers "medically inaccurate information" from Aid for Women, although the pro-life group lays out a few dozen possible "risks and side effects" of medical and surgical abortion, including "increased risk" of breast and cervical cancer.
The cancer link has been questioned for many years; a 2007 study in the Journal of the American Medical Association said induced abortion has been "inconsistently associated with breast cancer in case-control studies."
MORE: Pro-abortion speaker headlines Catholic school's MLK Day event
Aid for Women's risks page also warns of long-term psychological harm from abortion: "Many women who have had past abortions will continue to struggle their entire lives with their abortion decision and wish they had been better informed" about its downsides.
The group also discusses fetal development, "abortion procedures and risks" with clients, and performs "a limited obstetrical ultrasound exam" after the sixth week of pregnancy, which is intended to rule out ectopic pregnancies and show mothers the "heartbeat and movements" of their children.
Replaced with abortion-tolerant counseling
The current Wellness Center page replaces Aid for Women with The Women's Center, whose internet address is AbortionChoices.com.
While it offers information on the risks of various abortion procedures, physical and emotional, The Women's Center does not appear to be explicitly anti-abortion. Instead, it appears that Loyola replaced an explicitly pro-life group with a seemingly neutral group that is actually supported by a pro-life Catholic organization (see its other website).
A spokesperson for Students for Reproductive Justice, Melissa Haggerty, scolded The College Fix for reaching out to member DiMaggio for comment instead of her, and declined to answer questions about its goals and what was "medically inaccurate" about Aid for Women, because The Fix does not "respect what we're doing."
Haggerty said everything about its goals can be found through Google.
The Loyola administration did not return multiple emails and a voicemail left by The Fix.
MORE: Jesuit university students work for pro-abortion group for 'catcalling' course
Students for Reproductive Justice also has been organizing against campus sexual assault. In promoting a protest Monday, the group invited students "to dismantle the chains of patriarchy!!!!"
Among its intersectional interests is the plight of women in war-torn Syria: "As many of you know, reproductive justice includes the right to raise children in a community that's free of violence."
UPDATE: Like Aid for Women, The Women's Center is supported by a pro-life Catholic organization, but it maintains one website (AbortionChoices.com) apparently targeted to women contemplating abortion that does not explicitly oppose abortion. The article has been amended accordingly.
MORE: Mandatory diversity class followed by tuition hike at Loyola
Like The College Fix on Facebook / Follow us on Twitter
IMAGE: Students for Reproductive Justice/Facebook screenshot