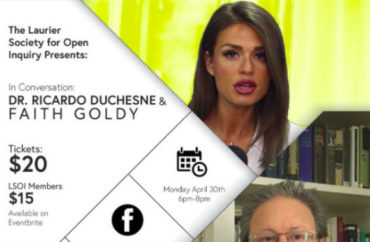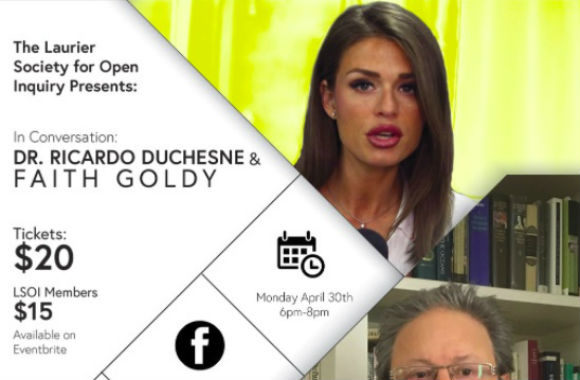 UPDATED
'There is no way we can pay that'
Wilfrid Laurier University graduate student Lindsay Shepherd and her Laurier Society for Open Inquiry couldn't convince the administration to let them host an April 30 event on campus.
The viewpoint diversity club submitted the request more than a month in advance, even though the Canadian university told them it only needs "15 working days to develop an event plan in cooperation with the event sponsor."
Now that the event is drawing wider attention from illiberal thugs, the security estimate from the new venue – the University of Waterloo – has skyrocketed.
Shepherd tweeted early this afternoon that the event on "ethnocide" in Canada is likely to be canceled because of the $15,000 revised estimate she received: "[M]any groups have communicated their intent to protest, and there is a high risk of danger."
I will receive the exact figure this afternoon and announce whether the event will go ahead. If you've already got a ticket, you'd be refunded.

— Lindsay Shepherd (@NewWorldHominin) April 25, 2018
Later in the afternoon, Shepherd said the final figure from the University of Waterloo was even higher: $28,500.
"Apologies to everyone who was planning on attending, there is no way we can pay that," she tweeted: "We are going to cancel the event."
She declined a suggestion that the club raise money to cover the security fee. "It would be a very awful situation if we raised $28,500 and protestors disrupt the event anyways, and that money goes down the drain," Shepherd tweeted.
She previously told The College Fix that Wilfrid Laurier University appears to be singling out her club with new "health and safety" rules no one else is required to follow to host events on campus, including the 15-day planning window and mandatory in-person coordination by its faculty sponsor.
If it were allowed to host the event on campus – featuring "Catholic nationalist" Faith Goldy and University of New Brunswick Prof. Ricardo Duchesne – it would be free to attend. The club had set a $20 ticket price to cover the original $1,600 estimated cost at the University of Waterloo.
It was also forced to move a previous pro-immigration talk to a nearby library at a cost of more than $400 in rental and security fees because of WLU's new rules, Shepherd claimed.
Follow Shepherd on Twitter and read today's report in The Fix.
UPDATE: The headline and body of the article have been amended to include new information from Shepherd about the final cost of the event, and the club's subsequent decision to cancel it.
MORE: WLU subjects viewpoint diversity club's events to 'health and safety' review
MORE: Fire alarm pulled to cancel Faith Goldy event at WLU
MORE: Students demand Goldy's disinvitation after profs refuse to debate her
IMAGE: Laurier Society for Open Inquiry
Like The College Fix on Facebook / Follow us on Twitter