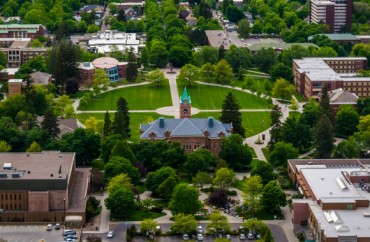 It's not an NFL career, but it's some measure of redress.
Nearly three years after a jury acquitted University of Montana quarterback Jordan Johnson of rape, he's extracted a $245,000 settlement from the school for its "misconduct" in investigating the rape allegations, he told the Associated Press.
Recall that for his book Missoula, author Jon Krakauer sought records from the state's higher education commissioner on why he overturned the university's rape finding against Johnson – records that both the commissioner and the feds claim are protected by student privacy law:
The accusations against Johnson initially prompted an internal university investigation that is the subject of his settlement. That investigation led to a recommendation for Johnson's expulsion by a university court that handles complaints of student conduct violations. The expulsion recommendation was appealed and upheld by university President Royce Engstrom.

Johnson then appealed to Commissioner of Higher Education Clayton Christian. Johnson was not expelled, and Krakauer is suing for the state to release information about what action Christian took.
RELATED: Amoral universities can save money by believing every rape accusation
The settlement says Johnson claimed the school violated his due process and civil rights, discriminated against him by sex, showed negligence and destroyed evidence, the AP reports.
The Washington Post notes that lawsuits by accused students against their schools for biased-from-the-start investigations are a "growing phenomenon" – two University of Texas students just sued, saying they were made "scapegoats" to demonstrate UT's crackdown on sexual assault despite not being criminally charged.
That's partly because judges are frowning on schools' procedurally deficient investigations, the Post notes: A California judge swatted down UC-San Diego's "unfair" proceeding against an accused student, and a Tennessee judge called UT's investigation of a(nother) student athlete "arbitrary and capricious," among other rulings against schools.
RELATED: Judge blasts UCSD for its kooky reading of evidence in sexual-misconduct case
Here's more on those new University of Texas suits from the Austin American-Statesman:
The graduate said he became aware in December 2014 that a woman he had sex with on Aug. 31, 2014 — called "Jane Roe" in the suit — had accused him of sexual assault, his lawsuit says. The Austin police and the Travis County district attorney's office investigated the incident and closed the case without charging him.

UT investigators later decided "that the evidence supported a finding that (he) had sexually assaulted Ms. Roe, the opposite of the conclusion reached by the more experienced detectives of the police department," the lawsuit says. The dean of students then recommended he be expelled.
RELATED: Father speaks out after college-athlete son cleared of rape: 'How many young men have to have their lives destroyed?'
The accused undergrad student – one semester away from graduating – says he's the victim of a father who's out on a witch hunt:
About a month later, the woman's father called UT police and accused the man of sexually assaulting his daughter.

According to the lawsuit, the woman texted her friend the next day, saying she didn't remember the sexual encounter: "I don't remember throwing up, or coming home, or having this random (expletive) guy in my bed. … I didn't want this guy. At all. This guy wanted me and got me when I wasn't conscious."

The friend said she thought the woman was conscious because, when she saw her kissing this man, she was awake and talking, the lawsuit says.

University police never spoke to the woman the undergrad was accused of assaulting and no criminal charges were ever pursued, his lawsuit says. The father's report was referred to the UT dean of students.
Of course, even several dozen lawsuits a year by accused students are unlikely to turn the tide away from guilty-until-proven-innocent investigations. Not only are the incentives stacked against fair investigations by the U.S. Department of Education, but by humongous past settlements in favor of rape accusers.
RELATED: Department of Education helps schools hide their sexual-assault investigations
Like The College Fix on Facebook / Follow us on Twitter
IMAGE: Jon Bilous/Shutterstock