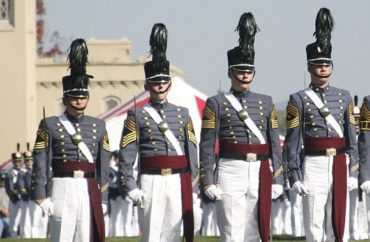 Efforts come as a result of investigation that concludes VMI favors white men
The Virginia Military Institute is looking into adding racial sensitivity training and increasing the number of cadets and faculty of color in the wake of an investigation into the 182-year-old school that found it still favors white men.
The Barnes & Thornburg law firm recently completed a six-month investigation into the Virginia Military Institute and found that "racial and gender disparities in how cadets are treated persist."
However, the investigation did not identify conclusive violations of Title VI or Title IX, and what's more, several cadets and alumni reported that they believe minorities and women are promoted over more qualified white male candidates in order to fill diversity quotas.
But the 152-page report stated "VMI has also traditionally been run by white men, for white men."
"VMI's overall unwillingness to change—or even question its practices and traditions in a meaningful way—has sustained systems that disadvantage minority and female cadets and faculty, and has left VMI trailing behind its peer institutions."
The investigation had been ordered by Gov. Ralph Northam and the State Council of Higher Education for Virginia.
"If VMI refuses to think critically about its past and present, and to confront how racial and ethnic minorities and women experience VMI, it will remain a school for white men," the Barnes & Thornburg report stated.
In response, VMI's Board of Visitors released a statement June 2 that it will work to implement most of the recommendations from the report.
"Board members determined that most of the recommendations contained in the report should be pursued and have instructed the administration to determine the feasibility of implementation," the board's statement reads.
Among the report's recommendation are:
• VMI create "measurable goals such as increased diversity in the corps of cadets and faculty."
• VMI create "measurable goals to recruit, maintain, and promote minority and female administrators, faculty, and staff."
• VMI should "continue to reduce the emphasis on traditions and iconography associated with the Civil War/Confederacy, to be replaced by other traditions and historical associations, including those that promote diversity, equity, and inclusion."
• VMI should design and implement sensitivity and bystander training for cadets (including incoming cadets) focused on racism, racial slurs, racial jokes, and racial stereotypes.
• VMI should, with the involvement of the chief diversity officer, design a campaign to encourage reporting of misconduct beyond simply making mechanisms and opportunities available.
The investigation was conducted from January to June of this year and included 2,496 survey respondents, 385 interviews and thousands of documents from VMI.
The report notes VMI was difficult to work with in many ways, including not providing information in a timely manner and trying to stifle interviews by having the school's attorney present.
The report covers everything from culture issues such as racist jokes and use of the n-word to conflict between athletes and non-athletes to discipline issues like the school's Honor Court, which convicts students of color more frequently than white students, according to the report.
Barnes & Thornburg did not respond to requests for comment from The College Fix.
In response to the report, Superintendent Major General Cedric Wins released a statement in early June announcing the creation of a new action plan to make VMI a more inclusive environment.
"Over the past six months, I have spent countless hours listening to cadets, faculty, staff, parents, and alumni to better understand the culture of the Institute," Wins wrote. "I have done deep dives on the policies and procedures of the many offices and departments that help to carry out the VMI mission."
"As with any organization, there is always room for improvement."
He said his approach will include a "unifying action plan" that focuses on honor, diversity and inclusion, the VMI brand, competing and winning, and "one VMI."
The plan argues that "VMI is at a crossroads."
"As the world around VMI changes, the Institute must continue to evolve or risk becoming irrelevant. Keeping pace with change, if not leading it, is necessary to meet the demands and complexities of the 21st century."
VMI media relations directed The College Fix to each of these statements, but elected not to comment on whether or not the report was an accurate representation of the school.
In the wake of the report, some have said VMI was going to get a black-eye no matter what, but that some positive came out of it.
"The investigation, however, was not the death sentence VMI's defenders feared," argued Richmond Times-Dispatch columnist Jeff Schapiro.
"Indeed, sandwiched between damning, anonymous accounts by cadets — past and present — of racial epithets and sexual assault, some of which have led to criminal prosecution, is an endorsement of the traditions that make VMI, VMI: the 'rat line,' the punishing assimilation process for new students; the one-strike-and-you're-out honor code; and the cadet court, once led by Northam, that enforces it."
Part of the report also detailed how there appears to be a belief that white men are overlooked to fulfill diversity quotas.
"It appears to be a widespread view among current Caucasian male cadets that minority and especially female cadets have an advantage in applying for positions within the regimental system," it stated, adding some examples from interviews:
"Females use their gender to access positions they are not really suited for and that they get these positions to fill a diversity quota."

"Women get leadership positions because of quotas or because the standards are relaxed for them, and this creates resentment from the male cadets."

"VMI is practicing equity over equality and putting women into leadership positions for which they are unqualified."

"I walk around my school wondering if the positions I applied for and [am] qualified for will be in jeopardy simply because it looks better to pick someone of color, due to the current political climate."

"As far as leadership positions go, minority and female cadets are encouraged to apply and make the leadership structure more diverse. But those two groups make up a very small portion of our student body as is, and many of the members of those two groups have no interest in leadership positions so they do not apply. We can not complain about lack of diversity when no attempt is made to hold positions by diverse cadets."
MORE: Virginia Military Institute buckles, will remove statue of Stonewall Jackson
Like The College Fix on Facebook / Follow us on Twitter