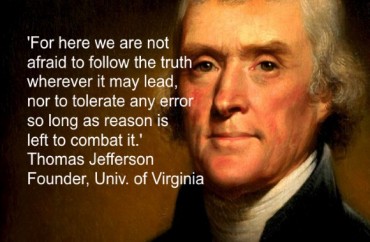 In the age of trigger warnings, safe spaces and bias reporting systems, faculty at the University of Virginia's College at Wise have passed a resolution in support of free speech and academic freedom, declaring a campus atmosphere that allows open debate "develops the mind and intellect."
"The university is the one institution where such open, diverse, free and lively discussion may occur," states the resolution. "Academic freedom should be promoted, protected, advanced and cherished by all levels of the university and college community."
The resolution, approved unanimously in November, was penned by political science Professor Garrett Ward Sheldon, who told The College Fix in an email this week that "restricting, censoring and punishing speech is clearly an attempt to control people's thinking and actions."
"The most important part of this resolution … is that the proper response to bad ideas is not to forbid or suppress them (which is impossible anyway) but to REFUTE them with good, reasonable ideas," Sheldon said. "That's what the academy is all about: teaching people to think, question, engage, debate, discuss, and resolve differences intellectually."
"The argument that some words are so bad or hurtful that they should be forbidden, prohibited, and punished or sanctioned, is used by all political, social and religious extremists," he added. "They often will say 'Well, we respect freedom of speech, except in this clearly bad area' (racism, sexism, insults, etc.) The danger with that, as the Supreme Court has stated, such restrictions create a 'chilling effect' or 'self-censorship' on all speech and harm free discourse, learning and progress."
UVa was founded by Thomas Jefferson, and the scholars cited his quote on the University of Virginia that "here we are not afraid to follow the truth wherever it may lead, nor to tolerate any error so long as reason is left to combat it" in the resolution and its addendum, noting the quote has "embodied the ideal of academic freedom in America for almost 200 years."
The addendum, also written by Sheldon, went on to spell out the reasons why academic freedom and free speech are so vital on college campuses: including that "to develop the mind one must be exposed to all sides of an issue or topic" and that "there is more human suffering when freedom of thought and debate are suppressed or sanctioned."
"As obnoxious as some views clearly are (e.g., racism sexism, insults, national chauvinism), if these ideas are not allowed to be expressed, they will reappear in new and pernicious forms, leading to their prevalence in new and dangerous ways," the addendum continued.
Sheldon said UVa-Wise's faculty were inspired by other, similar resolutions passed in support of free speech and academic freedom, such as those at the University of Chicago and Princeton.
Some have argued that there is nothing wrong with asking students to watch what they say, suggesting words such as "illegal alien" or phrases such as "that's retarded" are hurtful and harmful.
RELATED: Yale University students happily sign 'petition' to repeal First Amendment
But Sheldon said in his email to The College Fix that such word campaigns are highly problematic. He told The Fix:
The one area where the Court has allowed restrictions on campus speech are very limited and these are actual, repeated and believable threats of assault. Microaggressions that are only threatening to the beholder, but are not reasonable threats, and not intended as threats, do not come under that definition of "verbal harassment." Certainly people who, in any organization, have been traumatized and emotionally injured should have counselling and support available; but that shouldn't extend to shutting down the purpose of the university.

I think the answer is just to repeat the purpose and mission of higher education, as explained in the resolution, and tell students, staff and faculty that such academic freedom is respected at these institutions. The faculties at Chicago, Princeton, Purdue, and elsewhere have made these statements, and now some college administrations are explicitly affirming academic freedom.

The requirement of all people at a university to report any possible incident of "bias" or "disrespect" I find particularly chilling. Look at the societies in history that required all citizens to spy on each other, report to the state any possible infringement of law or loyalty, to be punished themselves if they were not State informants, and we see societies that created fear, suspicion, and unhappiness. A free and healthy society cannot exist where everyone is afraid to say anything, or do anything, for fear of being reported, arrested, investigated, put on trial, punished, etc.

Again, the greatest contribution of this Faculty Senate resolution, in my opinion, is the Addendum showing the philosophical and historical rationale for academic freedom. From Socrates to Jefferson to Santayana, our tradition has valued liberty of thought and speech. It is seen as creating the most strong, confident, happy individuals and progressive, free society. Aristotle said it was our very humanity: "reasoned speech" in a social setting. To restrict and punish such human activity is to limit our humanity, to halt progress and happiness. It is always controlled and punished for "the best" of reasons: ending harm or insults, discrimination or harassment; but it can end up discriminating against humanity as a whole and harassing everyone.
RELATED: Bill proposes fines for universities that infringe on students' free speech rights
Like The College Fix on Facebook / Follow us on Twitter