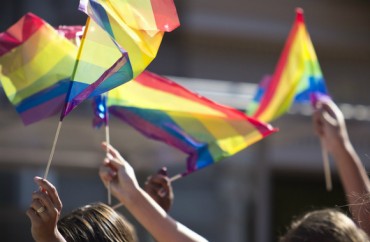 Campus is home to a dozen lesbian, gay and transgender groups
A large southern university hosts a total of 12 different LGBTQ organizations as well as an LGBTQ resource center, an arrangement that has led it to receive high marks by a national gay campus watchdog group.
Campus officials, however, remain silent on how much of the school's budget goes to fund these groups, and not a single one of the groups responded to repeated inquiries from The College Fix.
Virginia Tech's various LGBTQ groups include HokiePRIDE, TransSpace, Queer and Trans People of Color, Prism Society, and Out in Science, Technology, Engineering, and Mathematics, according to the website of the school's LGBTQ+ Resource Center.
The groups promote a diverse assortment of missions and causes. HokiePRIDE, according to its Facebook page, was originally founded in 1971 as the Gay Student Alliance.
"We, the diverse gender and sexuality and allied population of Virginia Tech, will work to create safe spaces for people of all sexualities, gender identities and expressions," reads its mission statement, in part.
TransSpace is "a place where trans individuals can share resources with each other in a conversational manner." According to its Facebook page, the organization hopes to "provide a safe space for Virginia Tech students (undergrad and graduate), faculty, and alumni under the trans umbrella to meet each other, form community, and discuss issues relevant to their identities and to their lives in general."
Queer Grads, Professionals, and Allies hosts a LGBTA support group on Monday evenings. Some of the organization's goals, according to its website, are to reorganize the list of campus unisex and gender-neutral bathrooms, and to coordinate a list of "safe" counselors and physicians on campus.
According to the LGBTQ+ Resource Center's website, Virginia Tech boasts of a Campus Pride Index of 3.5 out of 5 stars. This ranking, according to the Campus Pride Index's website, "is an overall indicator of institutional commitment to LGBTQ-inclusive policy, program and practice."
Some of the factors that influence the calculation of a school's Campus Pride Index include LGBTQ Student Life, LGBTQ Academic Life, LGBTQ Campus Safety, and LGBTQ Counseling & Health.
Virginia Tech holds a full 5 stars from CampusPride for its LGBTQ Student Life.
The College Fix reached out repeatedly for comment to each of Virginia Tech's LGBTQ groups for which an email address was listed.
Edmée Rodriguez-Hasler, Marketing Coordinator at the Office for Inclusion and Diversity, responded on behalf of the Ex Lapide Alumni Society: "Thank you for your email. I am copying Latanya Walker, who may be able to answer your questions or point you in the correct direction." Neither Waler nore Rodriguez-Hasler responded further.
None of the other organizations responded to The Fix's inquiries. The Fix also reached out to Luis Garay, the assistant director of the LGBTQ+ Resource Center, to learn how much funding the university supplies its LGBTQ organizations with. Garay did not respond.
Virginia Tech's LGBTQ+ Resource Center is one of its Cultural and Community Centers. Tech's other centers under this umbrella include the American Indian & Indigenous Community Center, the Asian Cultural Engagement Center, and the Black Cultural Center.
According to the LGBTQ+ Resource Center, the full list of LGBT groups on campus is as follows: HokiePRIDE; TransSpace; Queer and Trans People of Color (QTPOC); Queer Grades, Professionals, and Allies (QGPA); Q*mmunity Support Group; Out in Science, Technology, Engineering, and Mathematics (oSTEM); Prism Society; AcrossBorders; VTCC H.E.R.O (Helping Educate Regarding Orientation); The Interloper, Virginia Tech's LGBTQ+ Magazine; LGBT Faculty and Staff Caucus; Ex Lapide Alumni Society for LGBTQ+ and Allies.
MORE: Catholic university to host LGBT 'Pride Prom' in campus ballroom
MORE: Jesuit university caves to LGBT activists angry about marriage conference
IMAGE: Flickr
Like The College Fix on Facebook / Follow us on Twitter