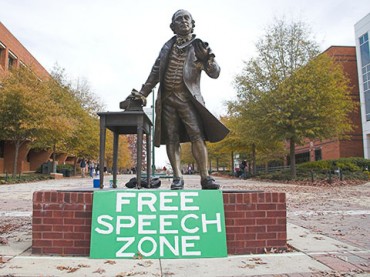 At one in every six public colleges in the United States, students must limit their public expression of ideas to restrictive, tiny free speech zones, according to a group that advocates for students' rights. Starting this summer, Virginia will scratch its schools off this list.
On April 4, Virginia Gov. Terry McAuliffe (D) signed a law authorizing outdoor areas of the state's public college campuses as public forums for free speech. The bill, which was introduced by Del. Scott Lingamfelter (R), passed both houses of the Virginia General Assembly unanimously. Virginia's new law goes into effect on July 1.
The Foundation for Individual Rights in Education was instrumental in advocating for the bill's passage. After the bill was introduced, FIRE's legislative and policy director, Joe Cohn, went to Virginia to explain the importance of college free speech rights to legislators.
Cohn told The College Fix in an interview that Virginia is the first state to pass such a law expanding free speech rights.
"We're tremendously excited about Virginia's free speech zone bill, and it's a credit to the Virginia legislators and Governor McAuliffe that the bill passed unanimously and that everyone understood the need to promote students' rights to speak their minds on college campuses," Cohn said.
Cohn said that his "understanding, from conversations with" Lingamfelter, was that the delegate was motivated by an incident at Modesto Junior College in California. The incident involved a campus safety officer telling two students they could not distribute copies of the U.S. Constitution on Constitution Day in front of the student center because they were not in a free speech area and had not asked for prior permission.
"We see these cases popping up frequently where students are prohibited from distributing literature in open areas of campus where they should be allowed to do so," Cohn said.
FIRE's efforts have borne fruit in Hawaii as well. Last month, it helped University of Hawaii at Hilo students Merritt Burch and Anthony Vizzone coordinate a lawsuit against the school for preventing them from handing out copies of the U.S. Constitution near the student center. The university is now reviewing its policy on speech and assembly, and it announced implementation of an interim policy that suspends its restrictive measures as it attempts to resolve the lawsuit with the students.
Cohn said schools began instituting free speech zones in the 1980s to guarantee that students would always have a place to exercise their First Amendment rights. However, in the 1990s, colleges began using the rule to restrict these zones to smaller and more obscure areas on campuses.
Cohn emphasized that open areas on campuses can be subject to time, place, and manner restrictions, but these limitations must be content and viewpoint neutral. For example, a school can limit the decibel level of a group outside the library, but the school cannot manipulate this rule to prevent a group from speaking based on its subject matter.
FIRE illustrates the restrictive policies of schools across the country using its Spotlight Speech Codes Database, the source of the one-in-six figure for restrictive speech zones. This infographic rates schools by state according to traffic light categories.
A "red light" school clearly and substantially restricts free speech through at least one policy. A "yellow light" school has at least one policy with vague wording that limits free speech or could be easily used to limit free speech. A "green light" school indicates that FIRE is not aware of any restrictive policies on its campus.
According to Cohn, as of this month Virginia has the highest concentration of "green light" schools in the country, with only three.
University of Pennsylvania professor Alan Charles Kors, a conservative, and Boston civil liberties attorney Harvey Silverglate, a progressive, founded FIRE in 1999. FIRE's stated mission is to defend individual rights, includingfreedom of speech, legal equality, due process, religious liberty, and sanctity of conscience at colleges and universities. Its outreach efforts include a summer internship program and a summer conference at Bryn Mawr College to expose students to professionals who deal with free speech rights in their careers.
"They saw that there was a growing need for an organization to step up to this challenge and it was becoming more and more obvious to them how pervasive violations of the student rights really were," Cohn said.
College Fix contributor Claire E. Healey is a student at Grove City College.
Like The College Fix on Facebook / Follow us on Twitter
IMAGE: dcJohn/Flickr