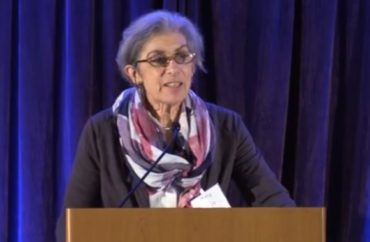 OPINION: The Vox writer that cried white supremacy wolf
WASHINGTON D.C. — An Ivy League law professor who has faced her fair share of leftist harassment is under fire yet again, this time over comments she made regarding immigration at a recent conference.
On July 15, Professor Amy Wax defended merit-based immigration during her talk "American Greatness and Immigration: The Case for Low and Slow." She voiced support for immigration from countries that share values with the United States and are more economically successful.
While her comments were coarse and direct, they had nothing to do with race. I was in the ballroom at the inaugural National Conservatism Conference in Washington D.C. as she spoke. From where I sat, everything she said had to do with the values and culture of immigrants and not their skin color.
But that didn't stop Vox's senior correspondent Zack Beauchamp from reporting that Wax, a professor at University of Pennsylvania Law School, made "an outright argument for white supremacy."
In a panel on immigration, University of Pennsylvania law professor Amy Wax claimed that immigrants are too loud and responsible for an increase in "litter." She explicitly advocated an immigration policy that would favor immigrants from Western countries over non-Western ones; "the position," as she put it, "that our country will be better off with more whites and fewer nonwhites." (She claims this is not racist because her problem with nonwhite immigrants is cultural rather than biological.)
Beauchamp's reporting has set off a phalanx of articles over the last five days declaring Wax made racist and white supremacist statements, creating a false narrative. A flurry of tweets have called on Penn to fire her.
But as a member of the audience on that Monday afternoon when Wax gave her speech, I can say for certainty that the characterization by Vox that she is a white supremacist would be laughable if it weren't so serious.
Professor Wax's comments were part of a larger panel dealing with immigration and what it means for America. The focus of her comments zeroed in on the issue of who comes into the country as an immigrant. And not once did she advocate for a race-based policy.
I emailed Wax for a comment following the release of the Vox article, and she told me that "obviously the reporter never heard of a racially disparate impact from a neutral policy. But in fact, those are everywhere, they are all over."
Wax refuses to play along.
"The Vox report is completely inaccurate and mindless, a sloppy 'gotcha' distortion of what I said. To 'respond' to their distortions is to play their game. Tucker Carlson got it right: they have only ONE trope on the left: 'she's a racist.' There is no attempt to deal with my actual argument," she told The College Fix via email.
While a transcript or audio recording of the panel has yet to be released, the conference's founder Yoram Hazony denounced the false narrative of Wax on Twitter, saying: "Several journalists writing about the National Conservatism Conference have relied on @zackbeauchamp's reporting below, which accuses Amy Wax, one of the speakers, of making 'an outright argument for white supremancy.' In fact she made no such argument."
Hazony continued: "… Wax advocated an immigration policy that favors immigrants with cultural affinities to the U.S. She emphasized that the position she was defending 'doesn't rely on race at all.'"
Several journalists writing about the National Conservatism Conference have relied on @zackbeauchamp's reporting below, which accuses Amy Wax, one of the speakers, of making "an outright argument for white supremancy." In fact she made no such argument. https://t.co/SHs8tpdCwH

— Yoram Hazony (@yhazony) July 19, 2019
"… Specifically, Wax did not propose racial tests for immigration, and did not say that her own position is that America 'will be better off with more whites and fewer non-whites.' @zackbeauchamp pulled these words out of context, and apparently misunderstood Wax's argument."
This prompted Beauchamp to release a larger transcript of Wax's comments, which The Federalist points out actually further refutes his claim.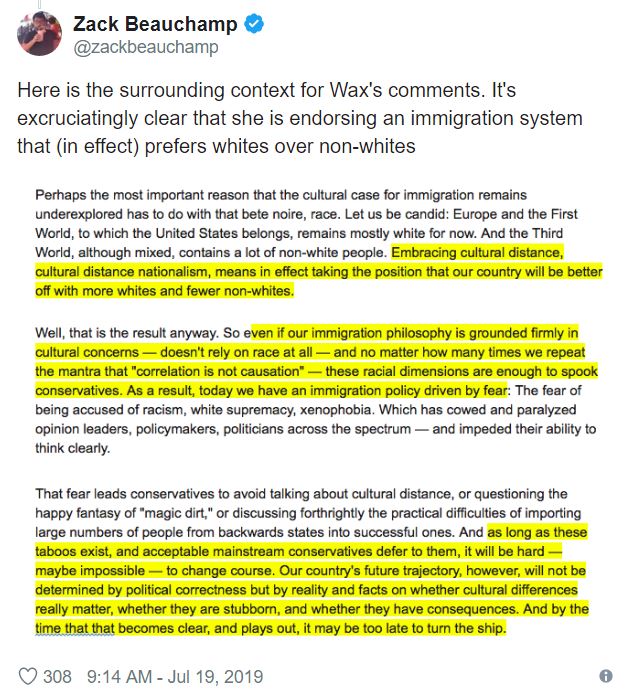 "What the transcript makes clear is that Wax is not basing her argument for admitting more foreign citizens from Western and first world countries on race at all, but on culture. Her belief is that immigrants who share some cultural norms and values with native-born Americans are better for the country than those who do not," writes David Marcus.
"More specifically, Wax is addressing the exact and wrongheaded allegation of racism against her argument. She acknowledges that her policy prescription will, at least in the short term, lead to more white immigrants and fewer non-white immigrants, but effectively shows that this is a correlation, not a cause. That is to say that the change in the racial makeup of immigrants is a byproduct of her policy, not at all its intent."
That is the key. Wax is advocating for a neutral policy that just so happens to disproportionately affect a group of people who have a different level of melanin in their body. In short, it isn't her fault that there is a disparate racial impact for her policies, which would apply just as much if the citizens of those less-advantaged countries were white.
Because the neutral nature of her proposed policy, Wax is correct in asserting that Vox's characterization of her comments is "completely inaccurate and mindless."
Wax's comments drew the spotlight of Vox because they were coarse and very direct. Her defense of Trump using the phrase "shithole countries" during her comments at the conference also points to a demeanor that isn't afraid to say something controversial in an unusually blunt way.
If Wax, instead of saying "shithole countries," had said something to the effect of "economically depressed countries with a poor standard of living," the immediate reaction from the reader or listener would be much different. But nevertheless, the two statements convey the same point.
Vox and its keyboard warrior Beauchamp might like to think that they're painting an honest picture of what is happening in American conservatism, but the former Think Progress editor missed the mark.
As for other things Wax said during the panel, the law professor noted that identity politics is rampant at universities, and affirmative action only makes the problem worse.
"Unless the Supreme Court decides to just backpedal totally on affirmative action, that diversity compelling interest is there now in the law and nobody's going to let go of it," Wax said.
Wax said that universities are run by a "highly moralized globalist ideology" and noted that her own university president had sent numerous emails to the university network condemning efforts President Donald Trump had undertaken to "curtail the situation at the border."
"The notion of neutrality is just completely gone," she added.
"We're influencing young minds, we're propagating these ideas and many of the students at Penn and places like it," Wax said. "They are so far removed from the border, they are protected from the wages of untraveled diversity."
MORE: Princeton debate club disinvited conservative Prof. Amy Wax from event dedicated to free speech
IMAGE: YouTube screenshot
Like The College Fix on Facebook / Follow us on Twitter