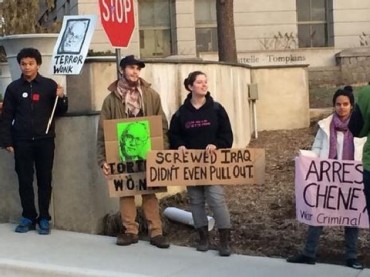 In talk, Cheney touched on many subjects, including foreign policy, Biden, and NSA spying
Former Vice President Dick Cheney spoke at American University amid protests and public controversy, outcries that included students calling him a "war criminal" and stomping out during the middle of an appearance on campus Thursday night.
Even before Cheney set foot on campus, students voiced their displeasure on social media.
"As you've probably already heard, world-renowned war criminal, Dick Cheney, is coming to campus this Thursday," stated a Facebook event page set up to organize a protest over his visit. "Conscious and conscientious people from AU and across DC are organizing to show that war criminals shouldn't be given the podium, let alone exonerated by our university."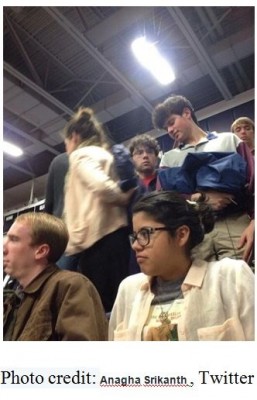 The event was organized by the Kennedy Political Union, American University's non-partisan, student-run, student-funded lecture series.
Outside Bender Arena, the site of the event, a small group of protestors held signs and chanted. One protestor even dressed up like Cheney and carried around a cardboard cutout of a jug of water for water boarding, the controversial enhanced interrogation technique used by the Bush Administration.  
Inside the arena, most students sat respectfully and listened to what the former Vice President had to say. After a brief time at the podium, Cheney sat down for a discussion with American University professor Richard Benedetto, a former USA Today White House correspondent who covered the Bush Administration.
While at the podium, Cheney addressed the controversy of NSA spying, explaining that after the Sept. 11 terrorist attacks, he met with CIA Director George Tennet and NSA Director Michael Hayden to discuss ways the intelligence community could protect American from future attacks.
Regarding the intelligence community, which has been much-maligned recently, Cheney had nothing but positive words.
"They are some of the most able and talented people I know," he said.
Cheney called allegations of spying, including reading emails or monitoring the content of phone conversations, "hogwash" and insisted it isn't true.
Cheney believes the Sept. 11 terrorist attacks may have been prevented if America had such technology monitoring programs in place at the time.
During the question and answer section with Benedetto, Cheney addressed a number of issues ranging from foreign affairs to gay rights.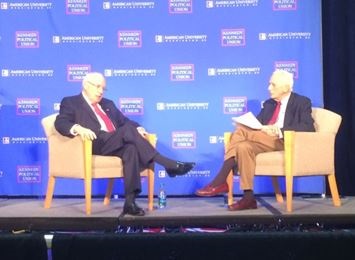 When asked if he is the dark, sinister personality that many believe him to be, Cheney responded in a joking manner, saying "absolutely."
On foreign affairs, Cheney harshly criticized the Obama Administration.
He called the reduction of sanctions on Iran a "mistake" and suggested President Obama should reconsider the Russian reset, saying it obviously hasn't worked.
At this point, roughly halfway through the event, a dozen or so students stood up and walked out in protest. As they left, they stomped their feet to make noise and at least one shouted "AU does not support war criminals."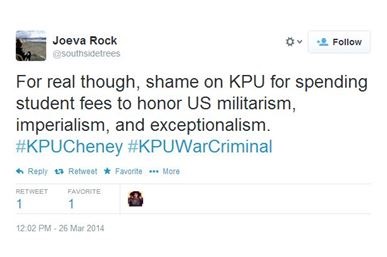 Students took to Twitter to voice their thoughts on Cheney and the protests, with anti-Cheney students using the hashtag #KPUWarCriminal.
Other students mocked the small group of students who walked out.
The event was largely unaffected by the protestors, who only interrupted the event for a few minutes. Cheney continued talking despite the interruption.
One student in the audience, an officer in the U.S. Army, had harsh words for the protestors. He spoke to The College Fix on condition of anonymity due to his position.
"These kids starting stomping around, coordinating their action to interrupt the former Vice President, calling him a war criminal," he said. "Why don't they go protest at the Pakistani embassy, since they support al-Qaeda and hid the leader of the group that killed 3,000 Americans on 9/11?"
Following the walkout, Benedetto asked Cheney about allegations he is a war criminal.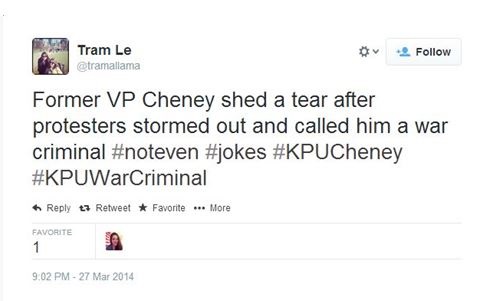 "Not guilty," Cheney responded.
He then explained the administration's rationale for its actions and how it legally justified them.
Cheney had strong words for people who support what he considers an "isolationist" foreign policy.
"You can talk about how it is not our problem…but the bottom line is it is our problem," Cheney said in reference to Afghanistan.
Regarding Edward Snowden, a man likely held in high esteem by students in the audience, Cheney called him "a traitor" and said the real NSA scandal is that Snowden was hired as a contractor for the agency.
When asked about the Republican Party's stances on social issues, Cheney addressed gay marriage and said "the level of acceptance is increasing." Cheney has a gay daughter.
He also says such issues are "hopefully less and less significant" for his party in the future.
Playing political prognosticator, Cheney predicted the GOP takeover of the Senate.
He also discussed his approach to the vice presidency and compared it to our current Vice President Joe Biden.
"I don't think we treat the job the same way," he explained, noting that Biden sees it as a stepping stone to the presidency.
College Fix contributor Josh Kaib is a student at American University.
Like The College Fix on Facebook / Follow us on Twitter
Photos: Josh Kaib