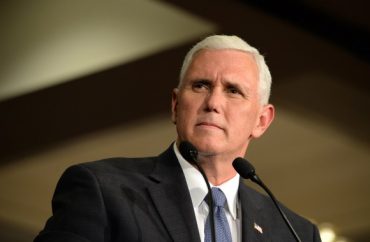 Over 100 demonstrators gathered at Florida International University Thursday to express their indignation at the presence of Vice President Mike Pence at the Conference on Prosperity and Security in Central America.
Secretary of State Rex Tillerson and Secretary of Homeland Security John Kelly were also in attendance.
Many of the usual suspects took part — the Students for a Democratic Society, People's Progressive Caucus, and the Florida Immigrant Coalition — chanting "No hate, no fear. Immigrants are welcome here" and holding placards which said "In the name of humanity, we refuse to accept a fascist America."
The Miami New Times reports the activist groups have been clamoring for some time for FIU officials to take a stand — so far unsuccessfully — against President Trump's policies like the so-called "Muslim travel ban."
"FIU is not listening to their students and yet, they're lending an ear to this administration which disenfranchises their minority student population," FIU Students for a Democratic Society co-founder Michelle Perez said. "What does that say about FIU? What is that communicating to students?"
Stephanie Doscher, the associate director of FIU's global learning initiative, asked the crowd to commit to changing the Dade County's leadership. But she says she's happy Pence came to campus.

"That gives us an opportunity to hear and analyze the inner workings of policy," Doscher says, though she noted that no students or faculty were invited into the conference, which was hosted by U.S. Southern Command and where Pence vowed more investment in fighting corruption and drug crime in the region.

But many students at the protest weren't as open to hearing the administration's message.

Ryan Almodovar, an SDS member and protest organizer, says the diverse student body's message to Pence and the cabinet members is simple.

"Nuestra casa no es su casa," Almodovar says. "You're not welcome here. Because they're telling us that we're not welcome here."
And because inane hyperbole is a hallmark of groups like SDS, one student actually compared the current political climate in the US to that of … Venezuela.
h/t to Legal Insurrection
MORE: Grads who walked out on Pence's commencement speech got booed
MORE: Profs ponder a Pence presidency — and it's about what you'd expect
Like The College Fix on Facebook / Follow us on Twitter
IMAGE: Shutterstock