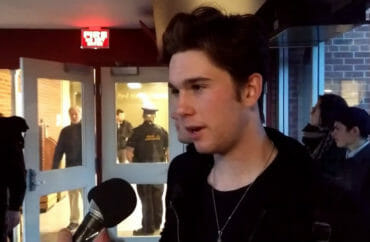 'Not part of the organizing students' plan'
It was probably too much to expect that students who disagree with "ethno-nationalism" would use their words to expose its intellectual weakness.
Instead, they exposed their own intellectual weakness.
In a move that surprised no one who has paid attention to college campuses for the past few years, last night's speech by "Catholic nationalist" Faith Goldy at Wilfrid Laurier University was shut down before it even started.
Laurier Students for Open Inquiry, led by the academic-freedom martyr Lindsay Shepherd, had invited Goldy precisely so her critics could engage her in debate on her scheduled topic: "Ethnocide: Multiculturalism and European Canadian Identity."
Because debate is so, like, fascist or something, some moron pulled a fire alarm instead, depriving the 175 people waiting in line for the event their right to hear Goldy and perhaps even challenge her. (Shepherd said she had to turn away another hundred for capacity reasons.)
The CBC reports that more 100 people were protesting outside with signs and chants such as their new slogan "No Nazis at Laurier" (all fine and good), but police evacuated the building when the fire alarm was pulled five minutes into the scheduled start time, before Goldy was even introduced. Shepherd later told attendees the talk had been canceled.
The fire alarm is the last refuge of the idiot Left, which exults in lawbreaking in defense of squelching views that diverge even slightly from its own. It's been deployed to shut down an anti-PC documentary screening at the University of California-Irvine, disrupt journalist Cathy Young's critical talk on radical feminism at Canada's Saint Paul University, and perhaps just add to the mayhem when a violent mob tried to shut down Ben Shapiro's speech at California State University-Los Angeles.
Activists who want to marginalize Goldy's viewpoints should have been ticked at their unidentified compatriot's decision to prevent her from having to publicly defend her views.
I went to see @FaithGoldy speak & a protestor pulled the fire alarm. No questions were asked. The speaker's views were not challenged. In fact, apart from illustrating that Leftists on Laurier's campus are okay breaking the law to get their way, no clarity was gained. https://t.co/Y44gJmsA7E

— David Millard Haskell (@DMillardHaskell) March 21, 2018
Instead, one of them called it a "damn good thing."
Toronto Star columnist Shree Paradkar flouted her illiberalism, blaming the university for allowing a student group to invite a speaker and accusing the Laurier administration of "an absolutely devastating erosion of hard-won fights and debates that have already been settled."
One protester, "Ann Marie," neither took credit for the fire alarm nor disavowed it, telling Paradkar that the stunt "was not part of the organizing students' plan."
Paradkar then celebrated the virtues of censoring views that you dislike, because it's not like that's ever been turned against progressive activists:
Ah, those foolish Shepherd critics, they simply don't understand. She is doing disenfranchised people a favour, giving them exposure to such beliefs, something they would otherwise have had no opportunity to learn about despite, you know, living that life.

The talk is part of the group's new "Unpopular Opinion Speaker Series." As in, racism is just unpopular, not deadly, not disastrous. But chin up. Let's air views that devalue Black and Brown lives so they can be challenged.

That old "respectful dialogue" canard to end racism.
Such brilliant analysis. The better way to end racism is to drive it underground, where it festers and then explodes because no one dealt with it openly.
Look at this flag-waving, mask-wearing, peace-loving rabble. Who could possibly think they're intent on being up to no good? #NoNazisAtLaurier pic.twitter.com/bkFwQaDg8q

— Cosmin Dzsurdzsa (@cosminDZS) March 21, 2018
MORE: Students demand WLU ban Faith Goldy from speaking
IMAGE: Tone Zone Studios/YouTube
Like The College Fix on Facebook / Follow us on Twitter