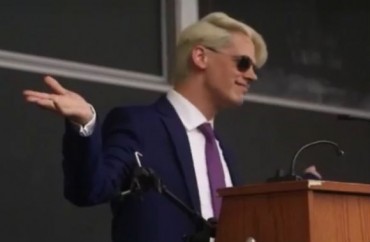 College Democrats plan 'alternative' event, campus newspaper editorial urges students to ignore him
It appears that conservative speaker Milo Yiannopoulos' event at Washington State University may go on as scheduled Thursday evening without significant protests, which forced the cancellation of his appearance last week at the University of California Davis.
The Moscow-Pullman Daily News reports WSU College Republicans aren't expecting the same outcry or obstructionism that occurred at UC Davis:
Jacob Garren, a WSU freshman and member of the College Republicans, said his group is not aware of any plans for protests of the Breitbart News editor and far-right public speaker, as they had been when the group raised a Trump Wall on WSU campus in the fall.

"For the wall event … there were these organized Facebook groups that were going to protest it and we haven't seen any of that," he said.
WSU is the latest stop on Yiannopoulos' "Dangerous Faggot Tour." He is also slated to speak Friday night at the University of Washington.
Yiannopoulos' event at UC Davis, which was also to include pharmaceutical executive Martin Shkreli, was cancelled about 30 minutes before it was scheduled to begin after protesters blocked access to the venue. The protests allegedly included reports of hammers, smashed windows and barricades being torn away and protesters throwing feces and urine at those waiting in line.
But while College Republicans at WSU aren't expecting the same level of opposition, the appearance by Yiannopoulos isn't without backlash.
Young Democrats of WSU will host an "alternative to Milo" event, the Moscow-Pullman Daily News reports:
The event, called Civics 101, will teach attendees how to identify and contact state representatives, file ballot initiatives and complete other such tasks.
But the Young Democrats' leader believes Yiannopoulos should be able to speak at the public university, according to a staff editorial from The Daily Evergreen, WSU's student newspaper:
While Young Democrats of WSU President Gavin Pielow agrees that Yiannopoulos is "a shrine to controversy" and "a graveyard to progress," he also believes we should not attempt to suppress his right to free speech. Pielow said he hopes Yiannopoulos' visit will encourage dialogue between his supporters and opponents, helping them to find areas to improve relations rather than become outraged with one other.
The editorial board agrees with Pielow on Yiannopoulos' right to speak but refers to the conservative as "a man beyond reason":
We should not silence Yiannopoulos, but we also should not mistake his vanity for conviction and waste our time and energy worrying about a man beyond reason. …Yiannopoulos wants you to fight him. Rather than give him the attention he feeds on, starve him.
MORE: UC Davis protesters go berserk, force cancellation of Milo Yiannapoulos event
Like The College Fix on Facebook / Follow us on Twitter
IMAGE: YouTube