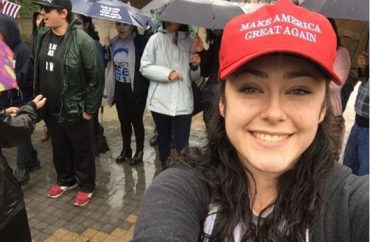 Donning a bright red "Make America Great Again" hat and American flag-print pants, University of California Irvine College Republicans President Ariana Rowlands single-handedly confronted a crowd of anti-Donald Trump protesters that converged on campus Friday afternoon.
Her colorful attire was matched by her feisty demeanor as the business information management major hollered back at her peers — a solitary figure standing up to a sea of students chanting "f*ck white supremacy" and "not my president."
With no one by her side, Rowlands danced and shimmied at the crowd in apparent mockery of the tide of Trump rage. She chanted back, she taunted, she engaged protesters.
"They want to call you 'racist' and 'white supremacist' but don't want to talk to you about what makes you a 'racist,' what makes you a 'white supremacist," Rowlands said as she filmed her interactions with the demonstrators. "And that is why they are going to continue losing."
At one point a protester shouted at Rowlands: "He's not my president!"
Immediately Rowlands shot back: "Are you American? Do you live in this country? If you're American and you live in this country — he's your president."
Unfazed by the endless chanting, Rowlands exclaimed "I love it," suggesting the protest just pushes people further to the right and is effectively helping the Republican ticket in 2020.
Some protesters held a large white banner that stated: "Fuck AmeriKKKa." Rowlands marched right up to them and called on them to explain themselves.
"I wasn't scared," she told The College Fix. "These people are out here protesting because they are emotionally hurt by the election. I'm not afraid of anyone who is afraid of open discourse."
"During the protest I did not feel like a lone conservative because there were many people who came up to me and told me they agreed with me quietly on the side," Rowlands said. "This is the silent majority, who are pushed away by the Left's dramatic antics, and towards us on the right."
But not everyone was thrilled by her behavior. A university administrator came up to her and told her that the protest wasn't the best place for her to be, she told The Fix.
"They didn't tell any of the protestors that," Rowlands said. "I think that protest was the best place for me to be, exposing Leftists for their intolerance and illogical actions."
In the end, she said the protest only helps the GOP.
"That protest was absolutely and completely pointless," she said. "They brought 50 people out on a rainy day to protest Trump and at the end of the day that changes nothing and only helps recruit people to our side."
"The right needs to capitalize on this golden opportunity to market ourselves as the side that welcomes all," she added. "We welcome all, of any opinion, race, sex, religion. And whatever you are, we won't call you a racist or a bigot over it, but rather have a discussion about our differences. This is a time for the GOP to grow."
MORE: Ohio State offers Inauguration Day 'safe space'
Like The College Fix on Facebook / Follow us on Twitter