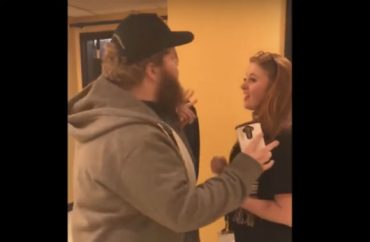 UPDATED
'Why the f— are you filming me right now?'
What started as a meeting between progressive and conservative student groups to discuss a possible public debate turned violent Wednesday night, according to video captured by one of the participants.
A member of the West Virginia University Left Alliance physically attacked a member of the campus Turning Point USA chapter who was recording him after the meeting had ended on a sour note and the groups had dispersed.
A source who knows the aggressor identified him to The College Fix as Kelley Denham, who is also president of the WVU Gender Equality Movement, a student group.
Another Turning Point participant seen in the video, Kaitlynn Critchfield, told The Fix that Denham threw her against the wall and tried to take her phone before he was recorded attacking the other member who was filming. She said she alerted the campus police after the incident.
Critchfield said she had started recording the meeting after Denham told the TPUSA members to "get the fuck out," because she feared for their safety.
She posted both videos on her Facebook page Wednesday night, and TPUSA founder Charlie Kirk tweeted the second video. (Critchfield gave The Fix permission to post her videos.)
Denham "chased down" the TPUSA members after they had left the meeting, Critchfield wrote on Facebook, accusing them of filming him without his permission. The chapter claims that because it was a public meeting, it did not need Denham's permission.
West Virginia is a one-party recording state, meaning that a recording is legal "when the person recording is a party to the communication."
Denham did not immediately respond to an emailed request for comment from The Fix.
'That's real inclusive'
It's not clear what prompted the meeting to end on a sour note, but Critchfield said it had barely started when the Left Alliance became hostile.
In the first video, which starts mid-sentence, an unidentified conservative student off-camera offers to leave the room, and Denham responds "Yeah, you guys should leave."
Critchfield, also off-camera, responds sarcastically "that's real inclusive. We just wanted to learn more about your organization, but if you're gonna force us to leave…" Denham says "Yeah, you guys should go," and the video ends.
In the next video, Denham appears to lunge at Critchfield before another TPUSA member gets in the way, and he asks "why did you film our fucking meeting?" She responds that she has a "heart problem," and Denham walks away, saying he's getting "security."
He turns around and walks back toward the other student who is filming, saying "what is your fucking problem?" Denham twice strikes the student who is filming. "Why the fuck are you filming me right now?" he asks, and the student replies "because you're attacking me right now."
Campus leftist at WVU ASSAULTS and swears at conservative student because he disagrees with him!

The left is OUT OF CONTROL!

RT! pic.twitter.com/TbqmDgPu1B

— Charlie Kirk (@charliekirk11) January 26, 2017
As Denham continues to ask why they are filming and accuses TPUSA of coming to his meeting without permission, Critchfield responds: "We weren't going to film until…" and trails off.
"Fuck you, you fucking conservative piece of…" Denham says. "Give me your fucking phone." He doesn't appear to strike anyone again before the video ends.
The source who identified the aggressor as Denham told The Fix that Denham had recently left another progressive group on campus, the Appalachian Workers Alliance, because it wasn't revolutionary enough for him.
"I'm honestly surprised it took him this long to do this," the source said, fearing that attitudes like Denham's were "alienating the sane people from the [progressive] movement. There is a real problem with the fetishization of violence in the rad left moment at large, which needs to be solved."
The administration provided a statement to The Blaze Thursday:
West Virginia University is aware of a video being widely distributed on social media and some news outlets of an altercation between two students with differing political points of view. University Police has investigated and neither party involved wishes to press charges. The report will be sent to Student Conduct, who will now investigate and take appropriate action.

West Virginia University continues to stand behind the right of its students, faculty and staff to express their ideas and points of view, but also remains adamant that it be done in a peaceful, civil and respectful manner.
UPDATED: The WVU administration provided a statement to The Blaze Thursday in response to the video. It has been incorporated here. The Fix inadvertently emailed the wrong person at WVU in seeking comment early Thursday morning. A new request has been sent as of Thursday night.
Like The College Fix on Facebook / Follow us on Twitter
IMAGE: Kaitlynn Critchfield/Facebook