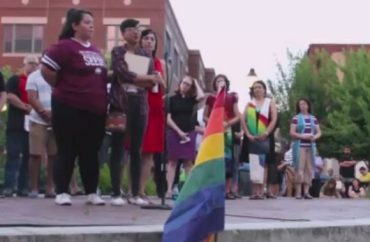 UPDATED
'Multicultural' official scolds whites who preach unity
A vigil Monday planned by several University of Missouri student organizations was supposed to honor victims of Sunday morning's deadly shooting rampage in a popular gay nightclub in Orlando, Fla.
It turned into a blame session against Mizzou's LGBTQ community for not being intersectional enough.
Latino activists, including a Mizzou official, scolded the mostly white gathering for ignoring racial issues. That led one attendee to fume on Facebook that the organizers had invented a "race issue" out of a "homophobic attack" by gunman Omar Mateen.
The attack on the Pulse nightclub took place on Latin night, with most victims Latinos in their 20s and 30s.
'Who are you really here for?'
At the event outside the Boone County Courthouse in Columbia, Mizzou graduate and activist Tiffany Melecio chastised the crowd for putting the interests of the LGBTQ community above those of "people of color."
"I wish this many people came out to our racial demonstrations and our Black Lives Matter movement," Melecio told the crowd, which The Columbia Missourian estimated at more than 800. (See the full video of Melecio's remarks at the bottom of the story)
"Those are things you don't consider when you are white or when you are an American," said Melecio, a former staffer for the Missourian. She recalled fumbling over Spanish, her non-native language, when she came out as bisexual to her Spanish-speaking mother from Guatemala. Her family is Guatemalan and Puerto Rican.
"I'm tired of the black and white dichotomy we hear when we talk about race," Melecio said. "We never take the time to talk about the shades [of skin] in between – like mine."
Melecio implied that among white people, support for the Latino community was not as strong as it was for the LGBTQ community.
"As much as it is awesome that there's so many people here today, but it's, like, who are you really here for?" said Melecio.
That comment prompted strong reactions from those in the audience. "We're here for everybody," said an unidentified woman.
"We are here to be uniting, not dividing, which is what you are doing now," Carl Brizendine yelled as the crowd murmured disagreement. His husband Daniel is a history major at Mizzou. The Columbia Daily Tribune reported that Daniel has lived in Orlando.
Disgusted & frustrated w/ the white folks who tried to silence a young queer Latina woman speaking truth at the #CoMo #WeAreOrlando vigil.

— Sarah Felts (@sarahfelts) June 14, 2016
"So you feel uncomfortable with the fact that people who are murdered are Latino people?" Multicultural Center Coordinator Stephanie Hernandez Rivera told the white attendees, by then leaving, who had rebuked Melecio. "That is a personal problem. You cannot be an ally to one person."
"I know people who would go to that club on a regular basis," Daniel Brizendine told reporters shortly after he and his husband stormed out of the vigil. He said he was not "anti-black" and has been involved in gay-rights marches since 1982.
'They are making it a racial issue'
"Right here on this stage, they are segregating us as a community," Carl Brizendine told The College Fix. "They are making it a racial issue."
The Brizendines spoke to Columbia police officers, posted nearby, who briefly questioned them before apparently deciding the dispute was de-escalating and didn't require action.
The married couple appeared visibly upset as they were comforted by supporters on the margins of the vigil. Another man, who asked not to be interviewed, cried into another man's shoulder.
"We all lost friends there," Carl Brizendine told a reporter for the Missourian, then adding that two of his friends had been "shot at" and that his friend's partner had been killed.
In a Facebook post Monday night, Daniel Brizendine fumed about the vigil's race politics.
At least one of the three women on the vigil stage said she had been instructed not to answer questions from The Fix. "I can talk to anyone except you," said Alejandra Gudino, an extension associate of nutrition and exercise physiology for MU Extension.
UPDATE: The full video of Tiffany Melecio's remarks at Mizzou's vigil for the Orlando shooting victims has been added.
Like The College Fix on Facebook / Follow us on Twitter
IMAGE: Derek Poore/University of Missouri