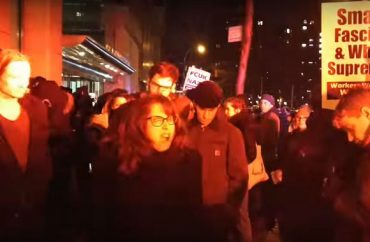 'Dead ringer' for the fired Mizzou professor
When right-wing provocateur Gavin McInnes spoke to the New York University College Republicans last night, the local police did their jobs, escorting him out of the building through a throng of aggressive protesters who called the cops racists, according to NYU Local.
Then an authority figure who should have known better heckled the cops for not beating up McInnes, the co-founder of Vice Media and former Fox News contributor.
Robby Soave at Reason flagged video that shows a self-identified professor setting a horrible example for impressionable students. Keep in mind that NYU told Soave it can't identify her, so it she may not be NYU:
"You are fucking assholes!" the professor shouted at the New York Police Department (NYPD). "You're protecting the Nazis!" …

"You should kick their ass!" the professor declared, referring to McInnes and his entourage. "You should!"

Note that the professor—a dead ringer for Melissa Click, by the way—considered violence to be beneath her and her owns students.

"These are kids who are trying to learn about humanity!" she said. "They're trying to learn about human rights and against racism and xenophobia, and LGBTQ rights, and you're letting these fucking neo-nazis near here! It's not up to these students to kick the ass of a neo-nazi! They don't have to raise their fist! They were taught to be peaceful! Fuck you!"
Here's more about the scene from NYU Local:
After McInnes arrived, tensions on the sidewalk were running high. "McInnes is a fascist, a colonial hegemonist, and an MRA [men's rights activist]," said a man named Connor in the crowd. "He's exactly what's wrong with this country." …

Multiple men in Make America Great Again hats attempted to engage protesters and NYU students in "debate." One of these men, who was agitating a group of protesters on the corner of West 4th and Laguardia, was punched and his hat was stolen. He attempted to take it back and was knocked to the ground. Police entered the crowd and began escorting people off the sidewalk.

After the second wave of arrests outside of Kimmel [where McInnes spoke], the MAGA hat was set on fire. The hat was burning for about thirty seconds before an NYPD officer stomped out the small flame.
Watch the thugs as they try to assault McInnes upon entry.
Read the Reason post and NYU Local's coverage, as well as a followup on students angry at NYU for not warning them about the likely hubbub.
Like The College Fix on Facebook / Follow us on Twitter
IMAGE: Dogmatic00/YouTube