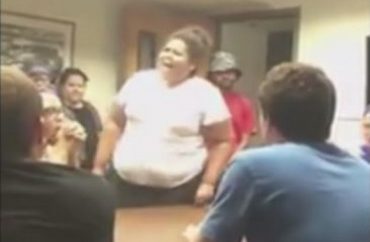 Video shot by a 'trans woman of color'?
The Young Americans for Freedom chapter at the University of Kansas had an … interesting meeting Thursday night.
A group of protesters showed up, repeatedly challenging YAF members and calling them names, sometimes screaming at them when they didn't observe practices like asking speakers which gender pronouns they prefer.
The Young America's Foundation has some excerpts of the accusations and name-calling, as well as the full 33-minute video. (The video may have originally been shot by a "trans woman of color" – see more below.)
According to Campus Reform, protesters showed up to the meeting because they learned that Gabe Lepinski, chairman of the KU chapter, told club members about the protesters' planned "Stand with ME" rally next week.
The YAF meeting starts with Lepinski saying the club believes in free speech and not the "snowflake mentality" that embraces safe spaces and trigger warnings.
A black student sitting next to him asks "even if it's problematic?" She explains she means speech that is "causing harm, violence to marginalized identities."
Lepinski says they don't condone violence, "but if words hurt you, that's something different entirely."
The disagreement about what is violence against "marginalized identities" remains civil for a couple minutes. But when Lepinski says he relies on government statistics on violence when discussing "contentious" issues, that sets off the black student.
"So you think people are wanting to go to safe spaces 'cuz of comfort and not humanity and survival and being able to function in white systems?" she says.
"You know KU is a white system, that it was designed for white students and it systematically disenfranchises marginalized identities" – she claims that KU has acknowledged this.
She challenges Lepinski when he says he doesn't "see any institutional racism" at KU, as opposed to individual racism.
"If you look at me and call me a nigger, that is discrimination," the black student says. She says the "barriers" to her are that her high school didn't offer Advanced Placement classes and "my family has not amassed enough wealth since they came out of chattel slavery."
That is why she is going to "graduate with a huge amount of debt when my white counterparts do not" – a claim that is challenged by a white student in the room, who says she's in debt too. The black student accuses YAF members of "hatred" for not believing in institutional racism at KU.
A self-identified "trans human and queer person" defends safe spaces, describing the search for housing.
"I had to go through hoops for months to be able to live in a hall where I feel comfortable in, and I still got shit for it?" the person says. When Lepinski responds "there are problems with individuals," not systems, the trans human replies loudly: "No, there are problems with how this campus is run."
The trans human avoids the library because the person does not feel "comfortable" with people wondering about the person's "gender identity." When Lepinski asks "why do you care what other people think," the room erupts in crosstalk.
Someone screams "My pronouns are 'they'!" which briefly quiets the room. Another protester says that since the protesters have shown YAF respect, the members should use everyone's preferred pronouns.
When the white student in debt asks the black student which campuses are "safe" in America, the black student says none is – that's why they need safe spaces. After a heated argument, the white student stops talking and looks at her phone, apparently stressed out. The black student accuses her of "white fragility."
The black student also appears to feel stressed as accuses whites of creating "civilization" by invading other people's land, saying whites believe white supremacy is OK because of Donald Trump.
She stands up and starts pounding the table. When a white student asks her to stop using "whiteness" as a slur, the black student yells "Whiteness is a goddamn term!"
You're a 'bullshit organization'
At this point, a self-identified "trans woman of color" is frequently heard – physically closer to the recording device than anyone else in the room – but never seen.
Campus Reform identifies the unseen student as Micha Cox, who alleged in a widely viewed video that she was harassed while walking home. That video spurred the "Stand With ME" rally.
In a mid-evening Facebook post Thursday, right after the YAF meeting, Cox appears to have posted the same video as YAF – suggesting she was the unidentified videographer. (A Young America's Foundation spokesperson told The College Fix it had asked its sources for the video who the "trans woman of color" was, and agreed "it looks like" Cox shot the original video.)
Commenters on Cox's post suggest they will attend next week's YAF meeting to protest as well. Cox shared the video again Friday afternoon.
At the meeting, Cox recounts her alleged assault on campus and calls YAF a "bullshit organization." She said Lepinski gets respect from his professors "because you were born with a dick" and "because you are white." The black student also calls Lepinski a white supremacist because he opposes safe spaces.
At this point a Student Involvement and Leadership Center official, Aaron Quisenberry, walks into the room, apparently after hearing the commotion, but does not intervene.
The room briefly settles down before the black student starts demanding "accommodations" from America for slavery, at which point the protesters start accusing whites of sins against American Indians and saying they shouldn't call immigrants "illegal."
Lepinski tries to end the meeting, saying it has turned into everyone shouting over each other. Cox asks him if next week's meeting will have "opportunities for us to speak and be heard," he says yes, if both sides will listen to each other. This appears to upset Cox, but it's not clear why from the recording.
Only as the room starts clearing does a physical confrontation look possible, when the black student and white student in debt argue in each other's faces.
When Lepinski tells Cox that she has the same right to walk down the street, Cox responds: "Don't tell me I have the same fucking privilege" to do that.
Cox promises to post a new transgender victim on the YAF Facebook page daily, with a trigger warning and content warning, "because those are important."
Read the Young America's Foundation account and Campus Reform report.
Like The College Fix on Facebook / Follow us on Twitter
IMAGE: YouTube screenshot