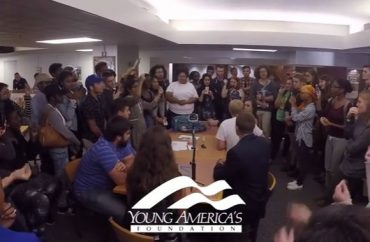 No safe spaces for conservatives at KU
A handful of progressive protesters crashed a Young Americans for Freedom meeting at the University of Kansas Sept. 22, turning it into one long, loud, resentful teach-in.
A week later, they brought a few dozen friends.
YAF members sat quietly around a table while the protesters behind them yelled and lectured at them for more than an hour, "screaming about safe spaces, institutional racism, white privilege and much more," according to the Young America's Foundation, which also released a two-minute clip of the meeting.
The group said the progressive mob forced the YAF members into "a larger area to be more-or-less ambushed by nearly 100 radical protestors," although fewer than 50 are visible in the video clip.
MORE: Protesters hijack conservative student meeting (VIDEO)
The apparent ringleader from the previous meeting, a black woman, seemed to take on the same role in last week's meeting.
"You know when the Constitution was written I was a slave?" she said, going on to imply the U.S. Constitution is illegitimate because slavery existed and American Indian populations were killed after its ratification.
"Still being killed!" another person shouted, and the protesters snapped their fingers (a form of politically correct applause).
"Your Constitution is flawed, if you didn't know," the ringleader said, responding indignantly to a student who called it "the law of the land": "The law of the land was created with your entitled ass!"
When YAF members attempted to respond with "facts or ask legitimate questions," protesters hurled insults at them, Young America's Foundation said.
MORE: 'KKK,' 'hate group' slurs hurled at CSULA conservative students
Much of the dialogue from YAF members in the clip is unintelligible, but protesters can be heard clearly.
One protester responds to an unintelligible YAF question: "Because you have white privilege!" A YAF member asks "How do you know what I have?" The room then erupts in mocking laughter.
The ringleader tells YAF members they should just consider leaving KU because colleges are "very liberal places" and they won't feel welcome at KU.
In response to another unintelligible YAF member's comment, a protester yells "How disrespectful can you get!" while banging the table with her hand.
When the other student begins to respond – again, it's unintelligible – the ringleader yells back "That is hate speech!"
When one YAF member asks everyone to calm down, the room erupts again. The table-pounding protester yells "You don't tell me to calm down! You do not as a white cis man tell me to calm the fuck down!"
Read the Young America's Foundation summary and watch the video.
MORE: 'Kill yourself,' you 'white bitch,' conservative Swarthmore student told
Like The College Fix on Facebook / Follow us on Twitter
IMAGE: Young America's Foundation/YouTube
Like The College Fix on Facebook / Follow us on Twitter