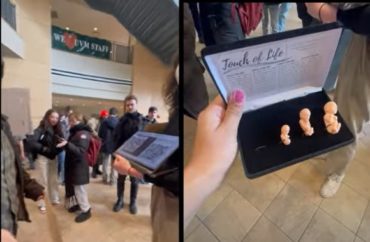 Group of leftist students mocked pro-life group
A group of pro-abortion students at the University of Vermont mocked and allegedly stole from a campus pro-life display.
"I was stormed by pro-abortion protestors, who stole from me, harassed me, and even told me they wanted to see preborn children dead," Students for Life of America field representative Savannah Craven recently wrote on the organization's website. An exact date is not provided in the blog but the video and article were posted on Monday, January 30.
She wrote of her experience:
Our morning started out beautifully as we had conversations with both sides of the aisle of the abortion issue. However, it slowly turned into an angry pro-abortion mob that had as little respect for us as they do for the preborn. The mob began taking photos and laughing at our display, as well as holding signs in opposition to the pro-life message. About 30 minutes later, a larger crowd began to form with counter-protesters blocking access to the table. As confusion reigned, the abortion supporters took advantage of the chaos, yelling hateful comments to us and stealing one of our fetal models.
"We want to see them dead!" a student shouted, to laughing support from pro-abortion activists in the vicinity.
Another student agreed that abortion kills a preborn life but continued to mock the pro-lifers. "F*** them kids," a student said.
Craven said administrators did step in to help the pro-life students.
She wrote:
 Another pro-abortion student stole the entire SFLA sign-up sheet which had the personal contact information for many interested students. Soon after this, the Student Life Administration came to ask the students to move out of the way as they were blocking our table. Most of the students refused until the administrator said that if they did not move out from in front of our table, she would have to call someone to help her with next steps.
The harassment and theft on campus fits into the broader problem of pro-abortion violence in America, which has ramped up since the leaked Roe v. Wade reversal decision in May.
Churches, pregnancy help centers and other pro-life organizations have been hit with vandalism, firebombings and other criminal activity.
MORE: Pro-abortion 'vigil' at Dartmouth draws small crowd
IMAGE: Students for Life of America/YouTube
Like The College Fix on Facebook / Follow us on Twitter