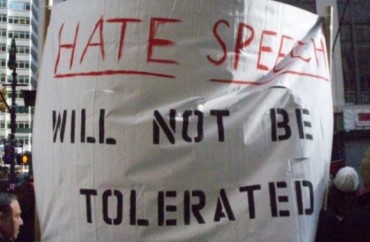 Refuse to be re-educated? You will be held 'accountable'
It's bad enough when student journalists call for the eradication of "hate speech."
Do you realize everything unflattering you report or opine on (not even intentionally) could be defined as "hate speech" by whoever is unflattered by it? Do you want to give administrators and activists carte blanche over your copy?
It's even worse when they issue veiled threats against people who practice or passively accept hate speech, however defined.
A staff editorial in The Wellesley News is making the rounds, drawing concern from mainstream journalists including Jeffrey Goldberg of The Atlantic and Byron Tau of The Wall Street Journal.
It's a response to the portrayal of the women's college in the media since Northwestern University Prof. Laura Kipnis spoke on campus last month.
Kipnis is known and hated by victim-oriented feminists for decrying the "sexual paranoia" on campus that deprives accused people of due process and turns modern women into delicate flowers that need constant protection, incapable of ever becoming consenting adults.
Her essay on sexual paranoia was so offensive to two students she was subjected to a two-month Title IX investigation.
Before Kipnis's Wellesley appearance, a group of female students made a video against her "bullshit," which only gave more attention to her new book on sexual paranoia, Unwanted Advances.
MORE: Non-PC ideas 'impose upon the liberty' of Wellesley students
After the Kipnis visit, a "presidential commission" at Wellesley suggested that it be given veto power over speakers that may be too offensive to even step on campus, like a left-wing film professor and author of Against Love.
Needless to say, these actions have not reflected well on the women's college, and the newspaper editorial takes issue with how students are being portrayed.
In the process, the editors dig Wellesley into a bigger hole:
Wellesley students are generally correct in their attempts to differentiate what is viable discourse from what is just hate speech. Wellesley is certainly not a place for racism, sexism, homophobia, Islamophobia, transphobia or any other type of discriminatory speech. Shutting down rhetoric that undermines the existence and rights of others is not a violation of free speech; it is hate speech. The founding fathers put free speech in the Constitution as a way to protect the disenfranchised and to protect individual citizens from the power of the government. The spirit of free speech is to protect the suppressed, not to protect a free-for-all where anything is acceptable, no matter how hateful and damaging.
You know who else undermined "the existence and rights of others"? Freed slaves and abolitionists. You think Southerners didn't accuse them of hate speech, of attacking the South's way of life and subjecting fragile Negroes to the ravages of the brutal Northern economy?
MORE: Campus feminists 'shut down' the 'bullshit' of Laura Kipnis
One of the more frightening editorials I've ever read (from the Wellesley student newspaper): https://t.co/EnWovbdBwo

— Jeffrey Goldberg (@JeffreyGoldberg) April 14, 2017
The editors claim they want people on campus to "learn from their mistakes" and overcome their biases through education. But there's a limit to education, and it starts when students, staff and faculty refused to be re-educated by editorial board-approved teachers:
This being said, if people are given the resources to learn and either continue to speak hate speech or refuse to adapt their beliefs, then hostility may be warranted. If people continue to support racist politicians or pay for speakers that prop up speech that will lead to the harm of others, then it is critical to take the appropriate measures to hold them accountable for their actions.
The editorial gets a bit confusing here as to who deserves "hostility" and accountability for their refusal to be re-educated, to say nothing of what form this "hostility" should take. It may be just another result of design by committee, or it could reflect low standards at The News.
What's clear is the writing style resembles the demand letters issued by social justice activists in the past couple years. And like those demand letters, the editorial strongly suggests these young journalists believe that discipline and force are acceptable responses when people refuse to "learn."
MORE: Kipnis beats Title IX investigation prompted by her essay
It matters not a whit that they call for "an effort to have this dialogue in a constructive and educational way," that they want to "bridge the gap between students in our community before we resort to personal attacks."
They ultimately reject the premise that the best way to advance knowledge is to challenge problematic arguments with better arguments, out in the open. They have no patience for letting better ideas win in the marketplace of ideas, perhaps because they don't have confidence that their ideas (i.e., perpetual aggrievement) can win on their own merits.
After all, truth is a white invention, right?
Embarrassingly poor grasp of First Amendment and free speech by student journalists at allegedly elite college. https://t.co/EZHuvA1Al6

— Byron Tau (@ByronTau) April 14, 2017
Wellesley's administration declined to comment on the editorial when asked point blank by Inside Higher Ed. What could it say, positive or negative, that wouldn't immediately embolden the illiberal censors in its student body and campus media?
Instead, it provided a statement from President Paula Johnson that preceded the editorial's publication:
"We must also recognize that for every outspoken voice, there are those who remain silent on the margins, in the classroom, in the dining halls, as well as at events with invited speakers," Johnson wrote. "It is our responsibility to invite all our students to voice their views — to find their way into the debate. Each of us in the Wellesley community has a stake in expanding the dialogue. When our most difficult conversations include a range of perspectives based in fact and strengthened by respect, they become the very conversations that move us forward."
It's not clear that Johnson recognizes who are the "outspoken" voices on campus, and which "remain silent on the margins."
MORE: Trump supporters investigated for 'demeaning' Wellesley students
Like The College Fix on Facebook / Follow us on Twitter
IMAGE: Ashley Marinaccio/Flickr