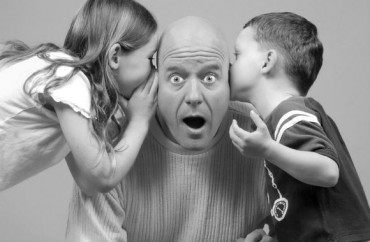 UPDATED
Still griping about that Black Lives Matter op-ed
Wesleyan University protesters want the school to create an anonymous system for students to report incidents of "bias, including microaggressions, perpetrated by faculty and staff."
It's among five demands that the group handed to Wesleyan President Michael Roth after marching through campus to his office Wednesday.
The group, which says it represents "students of color," calls itself "Is This Why?" That's a reference to Wesleyan's current alumni fundraising drive, "This Is Why."
Like his New England colleague Carolyn Martin at Amherst College, Roth didn't answer the specific demands of protesters but said he shares their "major goals."
UPDATED: Wesleyan president defends free speech, swats down demand for microaggression reporting system
Reaction to the protesters and their demands on Wesleyan's Yik Yak page was all over the map, with some commenters wondering how the school would judge a "microaggression" and whether professors could be retaliated against for giving out poor grades.
That fear is very real among faculty, according to a state college professor who wrote in Vox this summer that his "liberal students terrify me."
'Mandatory Social Justice Workshops'
Is This Why's demands start with a vague plea to be "holistically included" and not used to simply fill Wesleyan's "diversity quota," but they get more specific from there.
They demanded Roth and other officials apologize for "perpetuating the vilification of students of color," failing to "reach out" to them when The Wesleyan Argus published a controversial op-ed with a racial theme, and staying silent when "international tragedies occur outside of Europe," such as November's terrorist attack in Lebanon.
The group wants Wesleyan to create a "transparency" website on its diversity initiatives like that at the University of Missouri, which preceded the racial unrest there last month.
The school should hire an "equity advocate" who hosts "mandatory social justice workshops" for everyone but students, including public safety officers, so they know how to "appropriately interact with students from marginalized backgrounds."
Protesters demanded the establishment of a Multicultural Center within three years that would also provide funding for multicultural programs.
Though it set today as the deadline for the apology statement and Roth's promise to hire an equity advocate to start next year, Is This Why is giving Wesleyan until month's end to say how "student input" will be incorporated into the bias-reporting system it envisions.
The reporting system would apparently be included in end-of-semester professor evaluations by students. The group said it wants the proposed system to launch this spring. (Revisions to the professor evaluation system have been in discussion for the past two years.)
The demand gives no direction on what qualifies as "bias" or a "microaggression," or what the threshold should be for reporting, and such a system may not please the protesters in practice anyway.
Conservative students at the University of Pennsylvania were rebuffed this spring by the school's Committee on Open Expression, a watchdog on campus speech issues, when they complained that they could not safely express themselves in class because of biased professors.
The committee explicitly cited "academic freedom" as the reason why it wouldn't recommend creating a "course review" feature in which students could view professor-bias ratings submitted by their peers.
Has the administration caved already?
President Roth was present at the protest and responded Wednesday in a blog post, explaining that he "decided to join in their call for justice and community."
Though he agreed "there have been times when I or members of my administration have contributed to the perception that we didn't understand the challenges" faced by the protesters, Roth didn't directly address any of their demands.
Roth did list initiatives already under way: "increase faculty diversity, support low-income students, add faculty in African-American Studies, diversify the population of undergraduates majoring in the sciences, [and] improve representation in the student support services staff."
Is This Why has yet to issue a formal response to Roth's statement – the president said he'll be responding to their demands "soon" – but the protesters kept up the drumbeat against Roth on its Twitter page.
(Like Amherst College protesters, Is This Why didn't reserve its Twitter handle in time to prevent another user from apparently impersonating its voice. The "IsThisWhy" Twitter profile is "suspended" – one of the triggers for which is "impersonating other accounts.")
Student Caroline Liu, The Huffington Post's campus editor-at-large for Wesleyan, suggested protesters would secure at least a partial victory in a tweet Thursday allegedly quoting Chief Diversity Officer Antonio Farias. 
"We ARE working on the demands. You WILL hear from us shortly." – Chief Diversity Officer Antonio Farias #isthiswhy #studentblackout

— Caroline Liu (@caroqliu) November 19, 2015
The Office of Equity and Inclusion, which Farias leads, did not respond to a College Fix inquiry.
Funding questions
One of the biggest outstanding questions about the list of demands is how they would be funded. One Yik Yak poster said the required money might result in cuts to other sensitive budgetary areas.
The proposed Multicultural Center in particular would require the renovation of an existing building or the construction of a new building, on a campus with limited space.
Financial aid grants could also be cut if the demands are met. One Twitter user shared a 2012 article with Is This Why on Wesleyan's decision to end need-blind admissions because of "financial pressures."
Without need-blind admissions, "Wesleyan is far less open to working class kids, particularly [people of color] who want to attend," wrote the user, an editor for an American socialist journal.
Wesleyan's endowment, which ensures stability during economic downturns, could also be tapped for the demands.
DEVELOPMENT: Wesleyan president defends free speech, swats down demand for microaggression reporting system
Like The College Fix on Facebook / Follow us on Twitter
IMAGE: Cheryl Casey/Shutterstock, Yik Yak screenshots