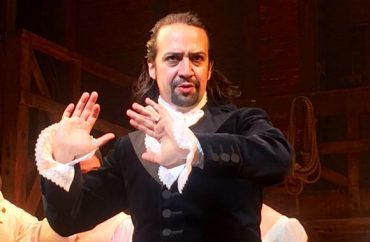 After a year in which Wesleyan University's activist and leadership cabals showed their utter disregard for freedom of thought – threatening the student paper for publishing a conservative op-ed – you can't blame President Michael Roth for hitching his wagon to something noble.
Taking credit for the Tony-winning, genre-bending musical Hamilton may be a stretch, however.
In a Huffington Post column, Roth suggests that a Wesleyan education was what inspired 2002 graduate Lin-Manuel Miranda to write and star in the adaptation of Ron Chernow's biography of Alexander Hamilton:
Even after the great success of Heights, nobody was really prepared for the truly revolutionary musical Hamilton. But given the liberal education that Miranda and Kail had received, I like to think we should have seen something like this coming.
Miranda's success in associating Wesleyan with something other than forced conformity to one worldview led the school to create a "Hamilton Prize" scholarship.
MORE: Give us microaggression reporting, Wesleyan activists demand
The full-tuition award will be given to an incoming student in the 2017-18 class who submits "a work of fiction, poetry, song, or creative nonfiction judged to best reflect originality, artistry and dynamism," Roth says:
We've created the "Hamilton Prize" to reflect our commitment to educating young people with the potential to revitalize our economy, animate our citizenry and energize a culture characterized by connectivity and creativity.
So remember, kids, Wesleyan is the place for you if you love Hamilton. But maybe not if you want to think critically about any other issue when you leave the theater.
MORE: Wesleyan student paper's funding yanked (again) for anti-BLM column
Like The College Fix on Facebook /Follow us on Twitter
IMAGE: Steve Jurvetson/Flickr