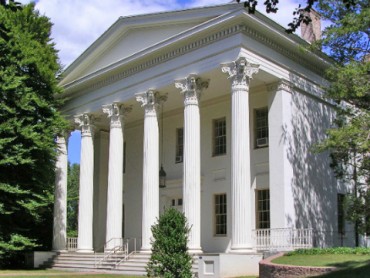 OPINION
After a particularly contentious student government meeting at Wesleyan University, some of my fellow representatives approached me.
"I'm always curious what you think after meetings like this," one student wryly said to me. A couple others leaned in to listen.
That's because I'm a veteran, specifically military intelligence, having served two tours in Iraq and deployed to Haiti to survey the damage from its 2010 earthquake.
The Posse Foundation helped send me and nine other veterans to Wesleyan on full-tuition scholarships. We're charged with spreading out through campus, sharing our experiences, speaking up in class and working with students on projects.
And we knew exactly what we were getting ourselves into.
It's no secret that Wesleyan is one of the most liberal and activist colleges in the U.S., whose 2008 graduating class speaker was then-Sen. Barack Obama and whose students frequently protested the very wars in which we had fought.
To ease our transition to Wesleyan and mitigate culture shock, the Posse Foundation first sent us to a month-long internship program that I called, tongue-in-cheek, "boot camp for college."
We took a series of courses to retune academic skills that may have atrophied in the military and got introduced to liberal arts culture, including discussion topics of racism, sexism and politics.
Needless to say, I had many preconceptions about Wesleyan and its students as I arrived on campus.
Less confrontational than you'd think
So why were my fellow student government reps asking for my thoughts? About a half hour earlier, another rep had unceremoniously quit right in the middle of the meeting and left.
It was fallout from a previous incident: The student government had been accused of classism for showing insensitivity to students who were the first in their families to attend college.
It may seem like a petty spat at a liberal arts college, but I told my inquirers it was all part of the leadership learning process.
Students must be learning a lot about leadership at Wesleyan because it's turned out some very notable alumni – one of the major reasons I chose Wesleyan. I was even more surprised how many got their degrees in philosophy and art history.
Not all my assumptions have been confirmed. The campus is less confrontational than I imagined. Rather than a constant buzz of protesting, it has been more of a sine wave.
Most students are content to come here for their education, the parties and whatever niche interest they have, while student activism is usually sedate – things like attending ACLU events or inviting their progressive idols to campus.
One exception illustrates the occasional absurdity of campus activism. Students occupied the president's office for a day this spring, demanding the endowment be divested of shares in corporations that operate prisons, sell fossil fuels or support Israeli efforts in Palestine. After a standoff, the president agreed to divest from prisons.
There was only one problem – the college had no money invested in prisons.
Provoking PETA
I was also surprised how positive student reaction has been to having us veterans on campus.
Some of that's certainly because the U.S. left Iraq three years before our freshman year. Intensely curious, Wesleyan students have interviewed and written about us, fairly.
More often than not students thank us for our service and ask us respectable questions about our experiences, not trying to pick arguments about policies.
Our campus has Republicans and a noticeable strain of moderate liberalism, which points out the liberal "hivemind" that tries to suppress voices that are not part of its progressive narrative. These moderate liberals also poke fun at some of the more ridiculous activism on campus, such as the "Climate Change is Classism" banner that an environmentalist group hung in the science building.
As a way to meet students outside the classroom, I ran for a seat on the student assembly and joined The Argus as an opinion columnist, bringing a moderate-conservative perspective to bear on issues. My most popular column scolded People for the Ethical Treatment of Animals for its avowed terrorist sympathies, which both inflamed the campus and drew a response from PETA itself.
Professors are 'ecstatic' to hear a perspective outside the bubble
The learning and exposure has been a two-way street. My views on the religiosity of environmentalism have softened, even as I still think the "doom and gloom" narrative is just the environmentalists' version of Revelations.
Yet my reading of the Founding Fathers has only deepened my beliefs that welfare does more to destroy communities than help them.
My fellow veterans agree the classes are tough and our professors are great, many of whom are respected researchers or leaders in their fields. Surprisingly, their personal beliefs have not impacted my classes in any way.
In fact, rather than trying to protect the ideological bubble around their classrooms, the professors are ecstatic when a view is brought up that is diametrically opposed to standard liberal beliefs.
This first year at Wesleyan has been an interesting experience, and I couldn't be happier.
Like The College Fix on Facebook / Follow us on Twitter
IMAGE: Paul Malo/Wikimedia Commons, Posse Foundation