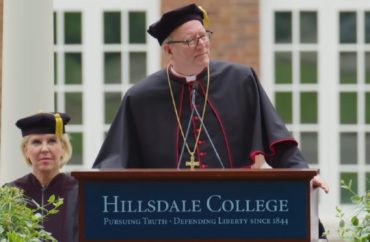 'If you become the persons God intends you to be, you will succeed in lighting a fire upon the earth'
Hillsdale College grads should reflect on who they want to be and the life they want to be, a famous Catholic bishop said during the recent graduate ceremony.
Bishop Robert Barron, who also runs a Catholic media company called Word on Fire, addressed the graduates of Hillsdale, a historically Baptist college.
"What kind of soul will you have? What kind of person will you be," Bishop Barron asked, after quoting from Socrates.
"Everything else in your life will flow from how you answer that question," the bishop of the Diocese of Winona-Rochester said.
He praised the college for its commitment to the "Greco-Roman" classics but also the Bible.
The Catholic prelate went on to say that the world is divided between those who worship the true God and those who practice idolatry.
He said
Even in our supposedly secular society we can appreciate the appropriateness of the biblical terminology, for everyone, even the most secular, the most unchurched, operates under the aegis of something he or she considers supreme, some summum bonum, some highest good.

No one would in fact get out of bed in the morning unless he believed in some value that's ultimately motivating his actions and decisions. Now this might be bodily pleasure or fame or material goods or one's country or one's family, but if it's functioning as the prime mover of a person's activity, it's playing the role of God and is being effectively worshiped.
"So the biblical form of the question that we've been considering is: 'whom or what do you worship? what's the highest value for you?' again graduates everything else in your life will flow from how you answer that question," Barron said.
He concluded by sharing his "confident hope" that Hillsdale prepared the graduates to "become the kinds of person" who would make moral and good choices.
"And if you become the persons God intends you to be, you will succeed in lighting a fire upon the earth."
MORE: 'Get married and start a family,' grad speaker says
IMAGE: Hillsdale College/YouTube
Like The College Fix on Facebook / Follow us on Twitter