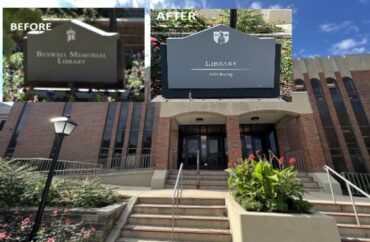 Change divides grandchildren; one says he was 'sinful saint'
Wheaton College in Illinois removed the name of its third president, James Oliver Buswell, from its library this fall in response to a historical review of race report at the Christian institution.
"One of the report's recommendations, released in September, was to remove President Buswell's name from the library because it is proven, in his own words, that he prevented students from attending Wheaton simply because they were black," college spokesperson Joseph Moore told The College Fix.
A task force made the recommendation in the report based on "thorough research" of Wheaton's history, Moore said.
He said the college removed the official signage of Buswell's name on the library after the report was published Sept. 14. However, Wheaton's website still mentions the Buswell name with the library, and Moore said he did not have a timeframe for its removal.
The college does not plan to rename the facility, it will simply be called the Library, he said. The task force did not recommend any other building name changes, according to the report.
Moore said the responses to Buswell's name removal have been positive overall, and people recognize the report of the college's race relations was conducted "in service of Jesus Christ" to benefit the Wheaton community.
"We were guided by Scripture, which calls us to treat others with dignity and charity," Moore said. "We believe it is God-honoring to learn from the past, lament mistakes that have hurt others, and then resolve to improve."
In The Wheaton Record, the college newspaper, 30 of Buswell's grandchildren and great-grandchildren sent a letter to the editor earlier this year outlining their support for "black Wheaton students."
The letter stated how they were "grieved" about a 1939 correspondence between Buswell and trustee Hugo Wurdak. In the letter, Buswell wrote to Wurdak about admitting students of color to Wheaton and advised that they attend Lincoln Institute instead, according to the report.
"I have no race prejudice in my heart," Buswell wrote at the time. "However, I have felt that for a small Christian school where the social contacts are so close, it would be better to avoid coeducation of the races. I have advised colored students to go to Lincoln Institute, Lincoln Ridge, Kentucky… I am trying to avoid the issue while quietly advising colored applicants to go elsewhere."
Responding in the college newspaper, his grandchildren wrote: "While we believe that Dr. Buswell did much which positively impacted the college in his tenure, we also recognize that he participated in a mindset and culture that has harmed so many Black people historically, and still does today. For that reason we who have signed this letter would like to express our support for Black students at Wheaton College today, and our sorrow and deep regret over the words and attitudes that were expressed in Dr. Buswell's letters from 1939."
The letter continued with an apology from Buswell's descendants for "the pain caused by Dr. Buswell's words" in the 1939 correspondence.
Not all of Buswell's descendants feel the same way.
In an opinion piece in World, Kathleen Buswell Nielson, a granddaughter of the former president, said she believes that it is important to recognize the "sinful saints" of the past by "thanking God for their leadership while telling their stories truly."
"We should not, however, refuse to honor a godly leader from the past because of his or her sin," Nielson wrote. "To cancel such a leader is a denial of our fallenness: We inevitably become like that self-righteous Pharisee in the temple who loudly thanked God that he was not like other men. We too often engage in what C.S. Lewis called 'chronological snobbery,' assuming we are better than previous generations."
Nielson said the college canceling his name dishonors a "sinful saint" and denies "God's gracious blessing on their heritage faith."
Mary Grabar, founder of Dissident Prof Education Project, also opposed the change.
Grabar told The College Fix it reminded her of totalitarian efforts to "un-person" those who do not conform all the way to the reigning ideology of the moment.
"In this case, sadly, the standard against which Oliver Buswell fails is a 'woke' version of Christianity," Grabar said.
Grabar also mentioned how the report cost the college resources that could have been used to serve current students at the university and removed his name without understanding the circumstances at the time in which Buswell lived.
"The task force members should hope that future generations are not as unfair to them in judgment," Grabar said.
MORE: Canceled: Washington & Lee University removes plaque honoring Robert E. Lee's horse
IMAGE: The College Fix, Google maps
Like The College Fix on Facebook / Follow us on Twitter