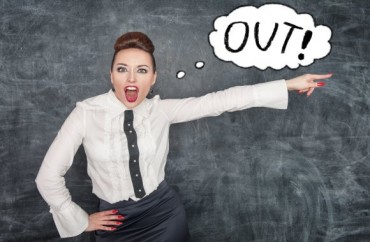 Earlier this week The Federalist revealed the sinister machinations of a group of educators at a school in the "posh" Boston suburb of Newton, Massachusetts.
Via a state public records request, Ilya Feoktistov discovered that history teachers at Newton North High School had pledged "to reject the 'call for objectivity' in the classroom, bully conservative students for their beliefs, and serve as 'liberal propagandist[s]' for the cause of social justice."
This was in reaction to a set of guidelines sent out by the school principal about "avoiding bias in teaching." Somewhat amazingly, the message told teachers to "remain objective while teaching about historical and current events" and to "treat all students, regardless of political opinion, with respect."
I say "amazingly" because 1) a school official in a progressive state actually wrote something like that, and 2) so-called professionals actually needed to be reminded of what he wrote.
Check out teacher David Bedar's reaction to the principal's note:
Personally, I'm finding it really difficult in the current climate to teach kids to appreciate other perspectives, "identify facts, opinions and bias in sources" and make evaluations based on evidence, reasoning, and rigorous, thoughtful analysis when we're seeing the complete opposite at the highest levels of government. I really do want to protect all kids' ability to share their opinions and comfort worried [sic], but it feels wrong to not call out ideas that I know will offend many of my students and create a hostile and potentially unsafe environment.
Bedar's colleague Isongesit Ibokette responded "I am concerned that the call for 'objectivity' may just inadvertently become the most effective destructive weapon against social justice."
Bedar continued, apparently believing his masters degree (in teaching) from Duke bequeathed upon him the "vision of the anointed": "We can help kids interpret the lessons of the past better than anybody. I feel like a phony when I'm not doing that." He went to express worry about getting fired for being a "liberal propagandist."
Ibokette backed him up, saying that if Bedar got canned "for doing exactly what history teachers, and indeed all rational and ethical‐minded adults should indeed be doing," he'd be "right behind" him.
I've little doubt Bedar's teacher education at Duke took little-to-no issue with such advocacy. Schools of education may be the most intellectually vacuous on campus, a near-total waste of time (and money). Gone are the days of "good practices'; instead, wannabe teachers are shown how to be proponents of "correct" causes.
As fed up parents flee to private and charter schools (or choose to homeschool), it's beyond time for administrators to enforce the rules of teacher objectivity. If folks like Bedar, Ibokette, et. al. refuse to comply, they should be dismissed. Educators are obliged to follow rules and procedures all the time — grading, curriculum, discipline measures — and a mandate for political neutrality in the classroom is no different.
MORE: When will teachers ever learn?
MORE: Why schools of education are a waste of time
IMAGE: Shutterstock.com
Like The College Fix on Facebook / Follow us on Twitter