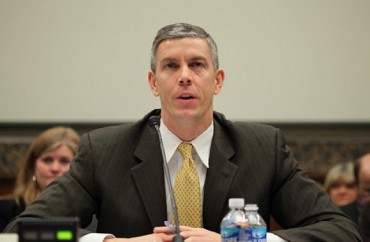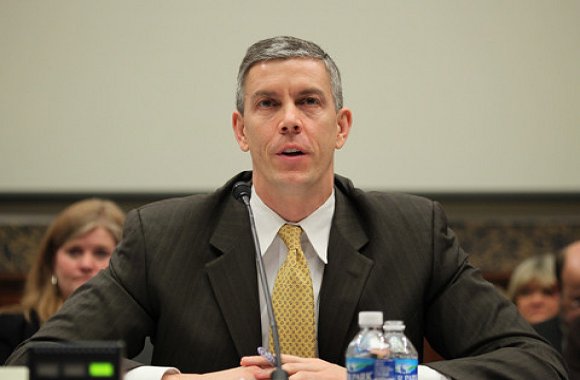 Last week Sen. Lamar Alexander, R-Tenn., crashed the hearing of a committee he doesn't serve on so he could grill a Department of Education official about bureaucratic overreach, particularly its unenforceable Title IX "guidance."
It appeared to be a preview of his own committee's confirmation of the next secretary of education. But now it won't happen for more than a year, at least.
The White House declined to nominate a new candidate for secretary following today's announcement that Arne Duncan would resign in December, instead appointing a senior official, John King Jr., to oversee the Department of Education, the Associated Press reports:
Elevating King in an acting capacity spares Obama a potential clash with Senate Republicans over his education policies as his term draws to a close.
The Christian Science Monitor reports that King's title will be "delegated deputy secretary."
RELATED: VIDEO: Dept. of Education SHREDDED for lawless overreach in Senate hearing
That likely deprives Republicans, opponents of the Common Core and civil libertarians their chance to shape department policy – on issues such as lack of due process for college students accused of rape, which springs directly from the department's Title IX guidance – until 2017.
John Banzhaf, George Washington University law professor, had suggested that Alexander use the Senate Health, Education, Labor and Pensions Committee confirmation hearings for Duncan's successor to press for an internal crackdown on the department's legally dubious guidance:
Banzhaf had previously been in touch with Alexander's office, suggesting that he take legal action to require DoE to either put the guidance rules up for comment or abandon them. …

The resignation of Duncan, and the appointment of King, may have an important effect in this area, probably by putting more emphasis on the Due Process rights of students accused of date rape, and possibly even re-thinking whether even small colleges have the resources and expertise to fairly and effectively investigate rape cases, and to then adjudicate them with panels barely able to handle water balloon fights.
Read the AP story and Banzhaf's analysis.
Like The College Fix on Facebook / Follow us on Twitter
IMAGE: House Committee on Education and the Workforce Democrats/Flickr