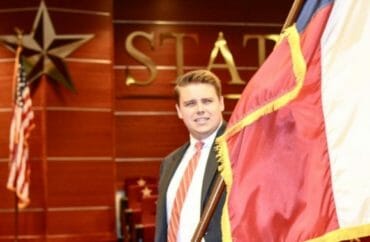 Author of infamous 'white death' op-ed helps lead charge
The student body president at Texas State University has become the target of a campaign to remove him from office for nearly 4-year-old Instagram posts that mock Asian tourists in Europe.
A group of student protesters (pictured) representing a variety of students of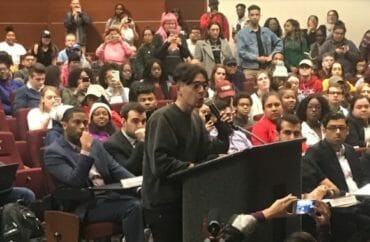 color and progressive student organizations on campus recently crowded a campus forum to call for Student Body President Connor Clegg's resignation or impeachment, calling him a racist. A handful of speakers also spoke in Clegg's defense.
Clegg is a white male conservative who has openly championed "small government, low taxes, and a strong military" as a Republican. But his nearly 4-year-old Instagram posts have come back to haunt him.
During the forum, heated confrontations between students were documented as the controversy engulfs the San Marcos, Texas-based campus.
"I am aware that university police at different times during last night's Student Government meeting had to intervene to separate students who were involved in heated arguments, but there were no physical altercations nor were there any reports of anybody being restrained at any point," Matt Flores, a spokesman for Texas State, told The College Fix via email.
The demonstrations against Clegg are largely led by student Rudy Martinez, author of the now infamous Texas State newspaper op-ed that proclaimed "white death will mean liberation for all."
Clegg is under fire for three photos he posted on his Instagram account during a 2014 summer trip to Europe. Martinez took screenshots and posted them on Facebook, calling Clegg a "racist" and a "pig."
Two of the three controversial images show Clegg poking fun of Asian tourists with hashtags such as "Pearl Harbor was bad" and "assholes." A third photo shows a collage of nuns walking from behind, in which Clegg jokes he's going to turn into a calendar.
Taken just after he graduated from high school and before he entered college, Clegg referred to his posts as "stupid" and "locker room talk" and referenced his youth as a reason, reports the University Star. He said he has grown a lot since then.
Clegg has deleted his Instagram account and issued a formal apology in a Facebook video in which he referenced the imperfection of humans and asks for forgiveness. He has also said he is praying about whether he should resign and expects to come to a decision soon.

Payback?
As for Martinez's role, he uncovered the old photos and shared them on social media with the hashtag "Impeach Clegg," launching the controversy.
Martinez may have had an ax to grind against Clegg.
The student body president had been extremely vocal against a column Martinez wrote which argued that "white death will mean liberation for all …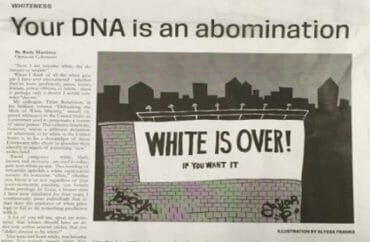 accept this death as the first step toward defining yourself as something other than the oppressor."
"Until then, remember this: I hate you because you shouldn't exist," Martinez continued. "You are both the dominant apparatus on the planet and the void in which all other cultures, upon meeting you, die."
After it was published in November, Clegg called it "blatant racism" that "should have no place in a newspaper students pay for."
Clegg released a statement demanding that either the editorial board resign or the paper be defunded. Clegg stated that "to wish for the elimination of an entire race is an ignorant, dated, and close-minded opinion, one that does not belong on our campus."
In late December, Clegg reported on his Facebook page that the opinion editor who allowed the "white death" column to be published no longer held that position.
Confrontation
More recently, on Feb. 5, the Texas State student government held a forum to address the controversy over Clegg's old Instagram photos, and Martinez took a lead role in galvanizing the crowd.
According to videos of a protest leading up to the forum, Martinez gave a short speech during which he decried Clegg as a "racist pig." He then went on to denounce Clegg's apology, saying it had a "facetious and insincere nature." Martinez rounded off his speech by saying his patience is wearing thin and he "doesn't mind kicking a mother f*cking door down."
It didn't stop there. In a room of approximately 300 people, Martinez started his speech at the forum by telling Clegg he looks "scared as hell" and that he is "indicative of a sickness that is very inherent to the structure of this country."
He goes on to tell Clegg his Instagram revealed his "racist and misogynistic nature," and further criticized Clegg's apology as "poorly scripted" while proceeding to call him an "enemy of critical thought and true diversity."
Other students present to protest and speak out against Clegg included members of the Pan-African Action Committee, Latinas Unidas, PAAC, National Association for the Advancement of Colored People Unit 6875-B, Texas Freedom Network Texas Rising for LGBTQIA Equality and Student Community of Progressive Empowerment, the University Star reports.
The situation between Martinez and Clegg was not lost on the crowd.
"When somebody is elected to represent a broader audience there's a higher standard to be held. Both remarks by Rudy (Rudy Martinez, former star columnist and philosophy senior) and (Clegg) were controversial. Both remarks caused a lot of people to get upset. (Martinez) was not elected to represent the people," Preston Nieves, a presidential candidate and political science sophomore, said during the forum, according to the Star.
Aftermath
At the end of the meeting, Clegg addressed the crowd at the forum, saying that they would know his decision within the week and that he would pray about it.
When contacted via Facebook by The College Fix for comment about the situation, Clegg responded: "I mean, tonight was just a pure bedlam. If you've never been in a room with three hundred people all screaming about how much they personally hate you for a mistake you made years ago, I wouldn't recommend it. It's not something I'd wish on anyone."
"And the irony that the room was chanting Rudy's name is just so baffling. I can't think of a worse spokesperson on campus than Rudy Martinez for combating hate — he's the central figure in driving this whole school apart," Clegg added.
Collin Pruett, director of operations for the Texas State College Republicans, claimed that Martinez acted hostile toward him as well during the forum.
In an email interview with The College Fix, Pruett said Martinez approached him and asked why he didn't speak. Pruett said he told him that what he thought was "well-documented" and that there "would be more in the coming days."
Following this, Pruett said that "Rudy immediately hopped up with a friend wearing a shirt with a Soviet hammer & sickle and attempted to bow up physically to me."
Martinez did not respond to requests from The College Fix seeking comment on the effort to remove Clegg or the allegations regarding his behavior at the meeting.
"It shows the mindset of the violent ANTIFA influenced mobs that have taken our university hostage over the last year since Donald Trump was elected," Pruett said. "They are vicious, they make threats, they seek to shut down speech. I hope immediate change is made for the well-being of the university and campus."
MORE: Campus paper fires 'white death' columnist
Like The College Fix on Facebook / Follow us on Twitter