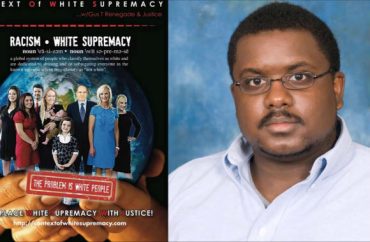 Withhold donations until Texas A&M fires professor – and president
A Texas A&M University professor suggested in class that "white people dying" is a time-tested way to eradicate racism from American society.
It's just the latest audio recording from Prof. Tommy Curry's classes that has been released by a group seeking his firing, as well as the firing of President Michael Young for his defense of Curry's academic freedom.
Support Aggies, which says it represents alumni but does not identify its leaders, has been dribbling out clips of Curry's classroom remarks for the past week, saying they prove he advocates violence against whites.
It's soliciting signatures for a petition that pledges to withhold donations to Texas A&M, its private foundation and alumni association until Curry and Young are fired.
Curry has admitted the contents of the audio recordings released by Support Aggies are authentic, but he has portrayed his remarks as "scholarly analysis" and not a call to use violence against whites.
'Some white people may have to die'
Curry's problems started May 8 when Rod Dreher of The American Conservative highlighted a 2012 podcast in which Curry spoke about the history of black self-defense. (Philosophy blog Daily Nous has a full transcript.)
The philosophy professor, who is black and an expert in critical race theory, prefaces his remarks by saying he wants to "talk about killing white people in context."
He uses the movie Django Unchained to describe a popular misconception that black revenge against whites is just "an entertaining spectacle," rather than an historical phenomenon that blacks should take seriously:
What I was surprised about is that I've seen no black public intellectual come out and actually address the issue of violence or social revolution or self radical self-defense by black people historically. …

And the fact that we've had no one address like how relevant and how solidified this kind of tradition is for black people, saying "look, in order to be equal, in order to be liberated, some white people may have to die."
Dreher cited Curry's internal "liberated" quote, not the entire sentence, and headlined the post "When Is It OK To Kill Whites?" After the post went viral and Curry was targeted with death threats, Dreher condemned the threats but stood by his interpretation of Curry's remarks.
"Listen to the entire Curry interview, and tell me that he's not saying that black folks today ought to be talking about killing white people for the sake of liberation and equality," he wrote.
After President Young sent a message to the community May 10 calling an unnamed professor's remarks "disturbing" but defending his First Amendment rights, Curry criticized Young and how his remarks were interpreted.
"At no point did I advocate violence of any kind," Curry told The Eagle. "The context was this: It was part of a scholarly analysis."
Support Aggies wasn't satisfied by Young's defense of Curry's First Amendment right to express his views. It released a petition May 12 calling for Young's firing because he supports Curry's "dangerous indoctrination of young students," which could have "catastrophic consequences."
But it also revealed it had audio from Curry's classroom lectures, his full class schedule and a trove of his emails.
'You cannot have progress here without violence'
In the first clip, after saying "conservatives at Texas A&M" have "degradated [sic] minds," Curry refers to taking revolution beyond classroom discussion: "You cannot have progress here without violence and upheaval because it's struggle for liberation of the other."
Drawing laughter from his students, in another clip Curry says he turns on the news "just to see" white people "being beaten with batons."
In a third clip, a student asks Curry if he's saying "nothing would change without violence between the oppressors and the oppressed."
Curry agrees that's what he's arguing "in this American context," that America has a "colonial structure" in which the idea of killing whites "resonate[s] in the history of people who have been oppressed":
The ideas that the white citizens have in America, even when they're liberal, does not border on the type of revolutionary sentiment needed to reconstruct and reconfigure the relationship between corporations, educations, universities, and other people of color in the United States.
Support Aggies' clips contradict Curry's explanation for the podcast, the group said Monday.
"It's clear from the recordings that Curry personally and seriously agrees that violence against whites is necessary for black progress," it said: "If any professor were promoting violence against blacks as blatantly as Curry does against whites, Texas A&M would rightly fire him in a heartbeat. It should be no different for Curry."
Support Aggies also posted 600 pages of emails apparently sent by Curry, saying it was "provided with an open records request set of documents." It asked readers to help it sift through the documents.
The group told The College Fix in an email Thursday that more than 100 "students, donors, and/or parents" have signed the petition demanding the firing of Curry and Young and pledging to withhold donations.
It's not putting their names on the petition because they are advocating "against someone who calls for killing people," said the group. "We would never want to be responsible for the injury or death of anyone, including people who sign our petition."
But it is "considering posting their comments publicly," and it will deliver the signed petition to the chancellor, regents, Gov. Greg Abbott and state lawmakers by month's end, said the group.
Support Aggies has remained shadowy from the start. The person who answered the query from The Fix would only say the group was founded by "a number of former students," and that it could make "continuous audio recordings available" off the record.
A followup email asking for the sender's identity and clarification on other points was not answered.
'I don't think you'll like how we change' American society
On Wednesday, President Young said he accepted Curry's explanation that the professor was only analyzing Django Unchained and apologized for making perceived "disparaging" remarks about Curry.
The same day, Support Aggies posted its latest clip from a Curry classroom, in this case Intro to Sociology.
The context for Curry's remarks isn't clear. "It requires us to destroy the way that society is formulated now," Curry opens: "I don't think you'll like how we can change it. White people dying or the people in power dying has generally worked."
He goes on to argue that "racism in the United States is a permanent feature of American democracy."
Unless minorities are taught to "pay attention to the institutional and historical remnants" of racism, "they are not prepared to make systematic and political attacks on the foundations of white supremacy in the United States," Curry says.
It's not clear whether Young heard the latest audio clip released by Support Aggies before releasing his statement Wednesday. Neither the administration nor Curry responded to requests for comment Thursday.
Curry told Campus Reform the recordings had been "spliced" out of context and that he often teaches the "revolutionary violence" work of a black psychiatrist, Frantz Fanon. Campus Reform found evidence in the 600 pages of emails that Curry taught several lectures on "justification for violence against whites" in 2006 and 2007.
The anonymous co-founder of Support Aggies went to a Curry lecture after a friend mentioned the professor's teaching, telling Campus Reform:
At the lecture, I asked Professor Curry what we should do to help the oppressed. He told me it was our duty to talk to the oppressed in ways that resonate with them, telling us to say to them: "kill white people."
'White supremacists' made up this controversy
Curry has many defenders. Young was given a letter Monday signed by 23 A&M professors, all but one "associated" with Africana Studies, asking the president to apologize to Curry for portraying "as truth a mischaracterization of Dr. Curry," The Eagle reported.
They said the portrayal of Curry's work was "deliberately created by white supremacists" and shared on alt-right websites. (Dreher himself is considered a "Never Trump" advocate and has written about how his friendship with the black actor and fellow Louisianan Wendell Pierce, who played Bunk on The Wire, helped him "see my country through African-American eyes.")
In our darkest hours @roddreher faith and family is all we have and need.

— Wendell Pierce (@WendellPierce) August 15, 2016
More than 1,200 people have signed a Change.org petition denouncing President Young for his initial criticism of Curry's podcast remarks, which "has legitimized dangerous and harmful rhetoric against a Black professor at Texas A&M University." Echoing faculty, the petition characterized The American Conservative as "far-right white supremacists."
One of Curry's colleagues, sociology professor Joe Feagin, told The Battalion that Curry was "clearly arguing that [black people] have the right to self-defense against white people." He also called The American Conservative a "far-right website set up by and for white nationalists and white supremacists."
Feagin is known for defending an Arizona State class titled "The Problem of Whiteness." He told a newspaper two years ago that America has "only theoretically been a free country since 1969, when the Civil Rights Act went into effect."
Like The College Fix on Facebook / Follow us on Twitter
IMAGE: Victim of Racism/YouTube