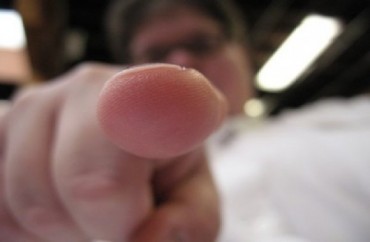 Never, ever, ever, ever say the N-word in any class discussion – no matter the context, even if you are quoting somebody else – if you are white.
A professor at the University of Kansas just coincidentally got blocked from continuing on the tenure track after students complained about a class discussion that they themselves provoked, Inside Higher Ed reports.
Here's the thing: Andrea Quenette had already been cleared by KU for the incident.
In November, the day after a major on-campus forum about race relations in light of student protests at the University of Missouri at Columbia and elsewhere, Quenette's students tried to continue the dialogue in her classroom. In an apparent attempt at demonstrating her own position of privilege concerning race, she allegedly said, "As a white woman I just never have seen the racism. … It's not like I see 'nigger' spray painted on walls."
Her students also claimed that she said such insensitive things as minority students who drop out "are not leaving school because they are physically threatened every day but because of academic performance." Some started the hashtag #FireAndreaQuenette.
The Foundation for Individual Rights in Education pressured KU to exonerate Quenette in February, saying that any punishment would violate her First Amendment rights, and praising the university when it did so.
Following her leave of absence – at her associate dean's suggestion, Quenette's husband told Inside Higher Ed – Quenette got shafted again:
Despite the finding, and the fact that she was never formally suspended, Scott Quenette said his wife hasn't been allowed to return to campus since. And on Monday, he said, the letter arrived telling his wife that she hadn't been reappointed to her tenure-track position; next year will be her fourth and last year on campus. …

Workload aside, Scott Quenette said that his wife's department and tenure review committee recommended her for a fourth-year review to catch up. But that was denied by administrators, he said.
The Quenettes are raising money for a "possible legal defense," Scott Quenette said. He wrote on the fundraising page: "Please share this story as KU wants to keep it quiet so nobody sees what they did."
KU's decision is a stake through the heart of academic freedom for anyone at KU without tenure, says FIRE's Peter Bonilla: The average professor will respond with a "conscious decision to avoid controversial subjects out of fear of [losing] his or her job."
Read the story and FIRE's background.
Like The College Fix on Facebook / Follow us on Twitter
IMAGE: a2gemma/Flickr