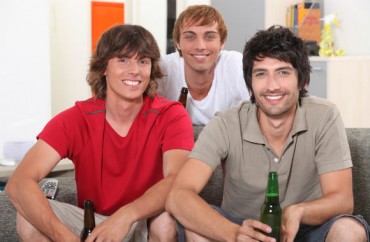 No apology given to Phi Delt for baseless public accusation
The university thought it was sexual harassment. Some students thought it was sexual harassment.
People who don't jump to wild conclusions thought it was innocuous, or at worst, a "crude invitation" to get the attention of girls.
Wichita State University has quashed its personal conduct and Title IX investigations of Phi Delta Theta for briefly hanging a banner that read "new members free house tours," following a veiled litigation threat from the Foundation for Individual Rights in Education.
The College Fix previously tried to get answers from the administration about what policy this banner-hanging violated, which campus entity was investigating, what were the potential sanctions, and what could possibly lead the administration to judge the banner "absolutely inappropriate," to no avail.
Campus newspaper The Sunflower reports that the public university won't punish the fraternity members who hung the banner from the side of its house for "about five minutes" last week.
In a statement given to the Sunflower but apparently not posted on its website or social media, Vice President of Student Affairs Teri Hall said Wednesday:
After reviewing the incident involving a banner posted at Phi Delta Theta fraternity last week, WSU Student Affairs doesn't believe university disciplinary action is appropriate. … The banner triggered uncomfortable feelings, but the banner was protected speech under the First Amendment.
Here's what Hall's office said the day after the banner was briefly hung.
WSU does not condone sexual harassment in any form. The inappropriate banner at Phi Delt was addressed & sent on for further investigation

— WSU Student Affairs (@WichitaStateSA) September 9, 2017
MORE: Wichita State might punish fraternity because of Betsy DeVos speech
WSU has a whopping 10 policies rated as "yellow light" by FIRE, meaning they are "ambiguous" and "too easily" encourage administrators like Hall to abuse and apply them arbitrarily.
Here's the policy for sexual harassment:
Sexual harassment includes unwelcome sexual advances, requests for sexual favors, and/or other verbal or physical conduct of a sexual nature. … The determination for whether an environment is "hostile" is often contextual and must be based on the circumstances.
Fittingly, Hall's second response to The Fix explained that Phi Delt's banner provoked an investigation because of its "timing and context."
Blame the fraternity, not us
Hall's statement to The Sunflower also said: "Any action taken by the fraternity chapter and its members is independent of the university decision."
That refers to Phi Delt's lightning-fast suspension of the two brothers who hung the banner, which more likely stemmed from the fraternity's fear that the university has set the bar for sexual harassment absurdly low (overheard sex jokes appear to be punishable) than from its agreement with the administration.
It's quite an about-face by Hall, who originally told The Fix the banner was "inappropriate" because it was facing "sorority recruitment, implying that women participating in recruitment should come to their house."
MORE: DeVos promises to fix 'failed system' of biased Title IX investigations
"We heard that students were concerned about communication and transparency and so we are make that a priority" – Dr. Teri Hall pic.twitter.com/Q0eHjR5I3a

— WSU Student Affairs (@WichitaStateSA) September 6, 2017
She had initially suggested to The Sunflower that Phi Delt was being investigated because of Education Secretary Betsy DeVos's* announcement the day before that her department would place a larger emphasis on due process in Title IX enforcement.
Student Affairs has yet to apologize to Phi Delt for publicly accusing it of sexually harassing sorority recruits without any foundation other than the office's imagination.
Probably confident that journalists will get bored with this story of the baseless but short-lived Title IX investigation and the quick-to-surrender fraternity, Hall's office has taken to tweeting and retweeting more politically comfortable subjects.
We stand in solidarity with our #DACA students.
Thank you to the organizers.
Injustice here, Injustice Everywhere!#CutH8WichitaState pic.twitter.com/LT2a0ctokk

— WSU Student Affairs (@WichitaStateSA) September 12, 2017
"We are going to Cut Hate on campus!","They are human beings!"- @JShepard_17 #DACA #CutH8WichitaState pic.twitter.com/5kSU4XUj4c

— WSU Student Affairs (@WichitaStateSA) September 12, 2017
Our upcoming Diversity Lecture Series will be bringing Carmen Perez to @WichitaState! Get your tickets today in the RSC 208! #WSUDIVERSITY pic.twitter.com/gfd49Ndz9g

— WSUDiversity (@WSUDiversity) September 7, 2017
MORE: Three in four top colleges presume accused students guilty
IMAGE: auremar/Shutterstock
Like The College Fix on Facebook / Follow us on Twitter