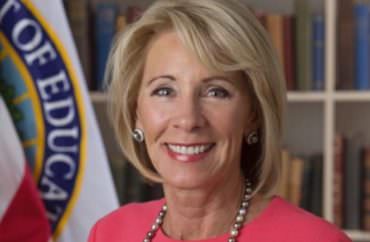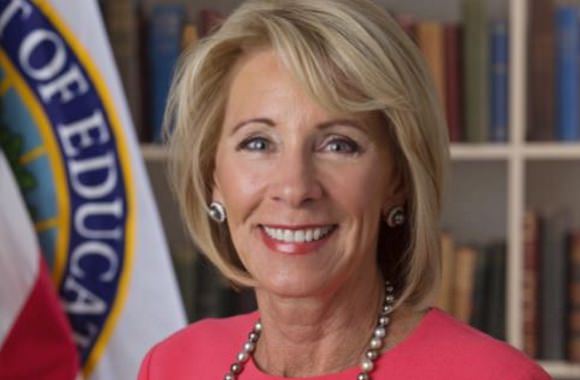 'Sexual baiting undertones'
When is an invitation to visit your house a clear case of sexual harassment?
Apparently only after the secretary of education announces a pivot in Title IX interpretation and enforcement.
Wichita State University has launched an investigation into a fraternity where a couple brothers on Friday hung a banner from a balcony that read "new members free house tours."
The administration declared the action "sexual harassment" Saturday without giving an explanation how those five words could possibly be considered threatening or harassing.
KWCH 12 didn't bother trying to figure it out either, simply reporting this banner offended the administration and noting that Phi Delta Theta itself apologized and suspended the two brothers pending "further investigation."
I asked university spokesperson Joe Kleinsasser for an explanation early Monday, including what policy this banner violated, which entity is investigating and what range of sanctions is possible, and got this email response from Teri Hall, vice president for student affairs:
The reason that it was "inappropriate" was because it was hung on the side of the house facing sorority recruitment, implying that women participating in recruitment should come to their house.
She did not answer any other questions.
'An issue of timing and context'
Student newspaper The Sunflower added more details to this head-scratcher Monday.
The banner was hung the first day of Greek recruitment and it was up "for about five minutes" – enough time to be tweeted by a progressive male student suggesting the banner was lewd – and the incident is now under investigation as a "potential conduct violation as well as a potential Title IX violation":
Student affairs was informed of the situation within a half hour of the banner's placement Friday, by a member of the Greek community who saw the banner and reported it to the student affairs office, [Director of Student Involvement Nancy] Loosle said. …

"It's unfortunate that a small group of individuals made a poor decision that now affects the entire Greek community," Loosle said. "That's why when issues arise, we deal with them and educate."
MORE: DeVos promises to fix 'failed system' of biased Title IX investigations
Again – what precisely was "poor" about this decision? Simply that an anonymous student who claims to have been sexually assaulted told The Sunflower the banner "really brought back those events" and it had "sexual baiting undertones"?
I asked Kleinsasser a second time for basic information about the specific policy violated, investigating entity and range of sanctions – reminding him none of this information is protected by the Family Educational Rights and Privacy Act – and he said "I'm not sure there's much more I can do to help."
I asked Hall if Phi Delt had a history of sexually harassing sorority members (again – not FERPA-protected), such that this otherwise innocuous message could be construed nefariously, or whether sexual harassment was really the most likely interpretation of this banner.
Phi Delt leaders certainly seemed to think everyone would assume the worst, ceremonially flogging two members with the apparent aim of sparing the fraternity from an institutional punishment.
"It was an issue of timing and context," Hall said, full stop. No other explanation.
'Because of the statements Betsy DeVos made'
Then I noticed Hall had given a more elaborate answer to The Sunflower, probably before giving me tight-lipped answers, saying the hanging of a five-word banner facing sorority recruitment brought "a chilly climate to campus":
Hall said while the banner was "absolutely inappropriate," the timing escalated the incident, both with recruitment beginning and with the apparent rollback of Title IX by Secretary of Education Betsy DeVos.

"I think we're all a little more sensitive because of the statements Betsy DeVos made (Thursday)," Hall said.
This sure looks like a blunt admission by a high-ranking university official that the fraternity brothers' behavior is not the primary reason Phi Delt is under investigation.
If you've already forgotten what happened Thursday, Education Secretary Betsy DeVos* announced her department would start a notice-and-comment rulemaking on Obama administration guidance on campus sexual-misconduct procedures.
She promised to restore due process to accused students, who are presumed guilty by most elite institutions, and stop threatening to revoke federal funds from colleges that ask for clarification or give accused students the customary protections they would receive in a civil court, such as the right to know what they're accused of doing.
The Obama guidance itself was never subject to a formal rulemaking, despite making substantive departures from prior agency practices. When the acting chief of the Office for Civil Rights, Candice Jackson, hinted at a pivot in interpretation and enforcement at a gathering of college lawyers this summer, she was cheered enthusiastically.
Contrary to the phrasing of The Sunflower, this was not in the least an "apparent rollback" of Title IX.
The 39-word statute and its regulations are interpreted by Supreme Court precedent, specifically the Davis decision: In order to trigger liability, sexual harassment must be "so severe, pervasive and objectively offensive that it denies its victims the equal access to education" guaranteed by Title IX. DeVos is more likely directing her department to return to solid legal ground.
Vice President Hall is apparently saying that an innocuous banner that hung for five minutes, facing sorority recruits, caused education-crippling harassment only because the secretary of education said something the day before that was itself imbued with nefarious intentions.
Phi Delt may well get off the hook in this investigation, seeing as it summarily punished two members for hanging the banner. But if these young men are seeking their legal options, they should talk to lawyers about Hall's comments suggesting DeVos triggered their liability.
MORE: Three in four top colleges presume accused students guilty
Like The College Fix on Facebook / Follow us on Twitter