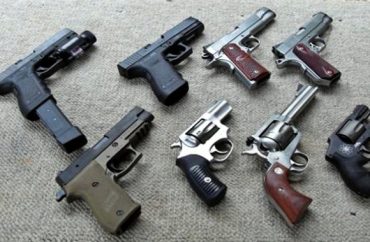 A Wichita State University professor has resigned her post over a new policy in Kansas that'll allow individuals to have concealed handguns on campus at public colleges in the state.
What's more, in her resignation letter, communications professor Deborah Ballard-Reisch said she finds Kansas to be "regressive" and "repressive" toward higher education, The Washington Times reports.
From Ballard-Reisch's resignation letter:
"While I have found the support to engage in work that I believe has enriched students and communities, I find the climate in Kansas to be more and more regressive, repressive, and in opposition to the values of higher education including critical thinking, evidence based reasoning, global citizenship, and social responsibility," Ballard-Reisch wrote. "I see this most clearly in the concealed carry policy that goes into effect July 1, which can't help but dampen open, frank conversation, so necessary for promoting intellectual growth and an informed citizenry."
Ballard-Reisch said she's "experienced gun violence personally" and believes the state's new gun policy "puts the health and safety of students, faculty, and staff at risk." She claims it'll hinder academic endeavors on campus.
"Clear, open, critical discussion cannot take place in an environment of threat and fear. Knowing that people will now be free to conceal and carry guns in classrooms without training and without licenses can't help but dampen the free exploration of ideas," the professor wrote.
Ballard-Reisch has taught at Wichita State since 2007, according to her resume.
MORE: Court of Appeals upholds college's gun ban
Like The College Fix on Facebook / Follow us on Twitter
IMAGE: Joshuashearn/WikimediaCommons