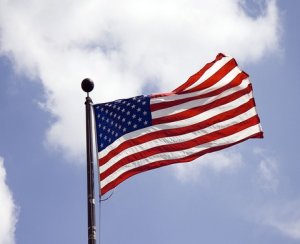 Back in May of 2010 — May 5th, to be exact — several (Caucasian) students at California's Live Oak High School wearing shirts with the American flag on them were asked to leave school because they refused to turn their shirts inside-out.
What, what? Students had to turn their shirts around … because American flags were on them?
Yep — it was Cinco de Mayo, after all.
School officials at the heavily Hispanic school were concerned that Latino students would be offended by seeing Old Glory on the Mexican holiday (a holiday not even widely celebrated in Mexico), and that some fights could result.  Indeed, some 200 Mexican/Mexican-American students protested in a march that day upon hearing about their devious Old Glory-clad peers.
The gringos went to court … and lost. The Ninth Circuit recently declined to hear their appeal, citing "prior events" that took place at the school, including an "altercation" (presumably between a white and Hispanic student), as a rationale. (There had been some 30 fights between white and Latino students in the past six years at the school.) The appellate panel said "school officials 'acted properly to prevent a substantial and material disruption of school activities.'"
(Check out The College Fix coverage of this case here and here.)
The US Supreme Court indeed has granted a lot of leeway over the last few decades to public school officials when it comes to regulating student speech. One notable ruling from seven years ago is the "Bong Hits 4 Jesus" case (Morse v. Frederick) in which a (public school) student unfurled a banner with "BONG HiTS 4 JESUS" on it across the street from his school during the Olympic torch relay.
SCOTUS Chief Justice John Roberts wrote for the majority in the case (emphasis added):
Student speech celebrating illegal drug use at a school event, in the presence of school administrators and teachers . . . poses a particular challenge for school officials working to protect those entrusted to their care from the dangers of drug abuse. The First Amendment does not require schools to tolerate at school events student expression that contributes to those dangers.
Perhaps anticipating the ensuing controversy, those in the majority with Roberts emphasized that this ruling "applied only to advocacy of illegal drug use." Justice Samuel Alito, joined by Justice Anthony Kennedy, noted the "Bong Hits" case "'provides no support for any restriction of speech that can plausibly be interpreted as commenting on any political or social issue' … including student opposition to the drug laws themselves" (emphasis added).
Confused yet?
You probably should be. The courts have pretty much been all over the map when it comes to lower ed. student speech rights.
The standard for such rights had been the Tinker case from 1969. The SCOTUS ruled then that students were indeed permitted to wear black armbands at school to protest the Vietnam War. The famous quote to emerge from the case was "Students don't shed their constitutional rights at the school house gates."
But since then, Tinker has arguably been eroded, despite Justice Alito's reassurance in the Morse case. In addition to Morse, 1988's Hazelwood v. Kuhlmeier allowed school administrators to censor student newspapers, even despite "protective" measures taken by student writers and editors.
Which brings us back to the situation at Live Oak High School. Does Morse apply here? Why or why not? Have we actually reached the point in this country where showing the American flag can legitimately be banned … despite it being displayed in front of our schools … and in each classroom within?
As an educator, I can fully appreciate the need for an "orderly educational environment," and back in 2007 during the Morse case I was fairly sympathetic to the high court's reasoning.
But these days, I'm not so sure.
If we're actually at the point where a display of our own flag can be considered "offensive" — and hence banned — then where does it end? Will administrators now ban student displays of other national flags because they may offend some students, i.e. native-born Americans? And/or because such displays, like at Live Oak HS, may lead to some student scuffles?
Or, are only certain (politically correct) groups permitted to be "offended?"
More importantly, will this case now go to the US Supreme Court … and will the justices legitimize the heckler's veto that the case enshrines?
Dave Huber is an assistant editor of  The College Fix. Follow him on Twitter @ColossusRhodey.
Like The College Fix on Facebook / Follow us on Twitter
IMAGE: US govt/Flickr