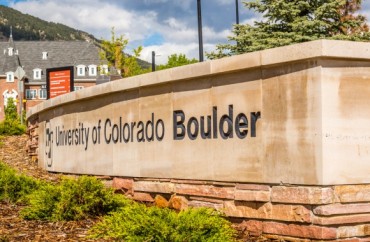 University of Colorado at Boulder is nestled in a region nicknamed the "People's Republic of Boulder" and known for staunchly supporting left-leaning policies and causes – yet a three-year Conservative Thought and Policy Program launched at the school has been so successful it's been extended for at least another year, with leaders saying they hope to make it a permanent fixture on campus.
"We had always hoped to be able to extend the program indefinitely, and it has been such a success that it was an easy decision to keep it going," advisory committee chairman Dr. Robert Pasnau said in an interview with The College Fix.
Classes the Visiting Scholars' have taught have been popular with students, and guest lectures the scholars have hosted added rigorous debate within the campus community, so much so that even left-leaning professors have enjoyed hosting the program, those involved with it told The College Fix in interviews.
"We hope to expand the program going forward, by bringing in a larger roster of visiting scholars, reflecting a wider range of viewpoints from conservative to liberal," said Pasnau, who is also a philosophy professor at the school.
The three-year pilot program began in 2013, and it continues to be supported
by private funds. A Visiting Scholar is appointed to a one-year teaching post.
The program seeks to appoint "highly visible scholars who are deeply engaged in either the analytical scholarship or practice of conservative thinking and policymaking or both."
Dr. Francis Beckwith, the fourth Visiting Scholar, is a professor of philosophy and church-state studies at Baylor University. He is scheduled to teach philosophy classes this fall on the topics of Thomas Aquinas and "Philosophy and Society," the department stated.
The position debuted in 2013 with Pepperdine University Professor Dr. Steven Hayward, who forged the path for the position by not only teaching several
classes, but also fostering discussions on campus by bringing in respected scholars and hosting guest lectures.
RELATED — Behind Enemy Lines: Conservative Professor Enters the Fray
Subsequent Visiting Scholars have done the same, and Beckwith said in a news release he plans to continue that tradition, and aims to attract speakers "who can help advance our public conversations" on important issues of the day.
Former CU Boulder Visiting Scholar Dr. Bradley Birzer told The College Fix he knows the administration is working hard to make the program as permanent as possible.
"I trust the various groups at CU will see fit to make something permanent happen," he said in an email.
Birzer, a professor at Hillsdale College, explained that the program's idea of conservatism has multiple facets.
"Steve Hayward, the first holder of the chair, and I would each like the program to be non-political. That is, we would like the program to be centered on a traditional understanding of the liberal arts and western civilization rather than being a specifically politically conservative program," Birzer said.
"It would be conservative, but in the sense of actually conserving the best of the past and promoting the dignity of the human person."
Like Birzer, Pasnau emphasized that the conservative program's Visiting Scholars do not have to be conservative in the political sense.
"There has of course been a certain amount of concern about a visiting position that is explicitly tied to conservative politics, but we have stressed from the beginning that the program is open to anyone with expertise in conservative thought," Pasnau said.
"I think that there is a general sense on campus that the larger goal of the program, to increase the diversity of intellectual conversation on campus, is a good one, and so I think that overall the program has been well received by both faculty and students," he added. "The classes have been very popular."
Although the program has continued success at CU-Boulder, Birzer warns that it may not be a one-size-fits-all type of program.
"What works in New Jersey is not necessarily what works in Colorado," he said. "I found the people of Colorado to be not only deeply caring about local issues (resources, etc.) but also extremely (more than I've ever seen in my life) entrepreneurial."
"If the CU program can successfully bridge the entrepreneurial spirit of the people with the seriousness of conservatism's best, it will continue to be extraordinary and special."
RELATED: Conservative Professor Heads Into The Fray
Like The College Fix on Facebook / Follow us on Twitter