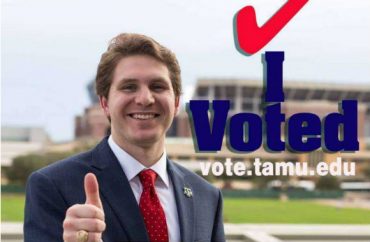 Student government races can be ethically challenged affairs. But sometimes it's hard to tell who is more ethically challenged.
The student judicial body at Texas A&M University disqualified the winning candidate for president, Robert McIntosh, because his finance report didn't include the "glow sticks" that briefly appeared in a campaign video, The Battalion reports.
That was the second charge made against the McIntosh campaign, after the first charge was thrown out upon appeal: that the campaign intimidated 14 voters by asking them to pull out their phones and vote on the spot.
Now one of America's best-known Aggies, Energy Secretary Rick Perry, is claiming the election process "made a mockery of due process and transparency" because it treated the heterosexual McIntosh differently than the homosexual Bobby Brooks, the winner by court ruling and first gay student body president. (Both are white.)
The longest-serving governor of Texas before his Cabinet appointment, 1972 graduate Perry wrote an op-ed in the Houston Chronicle about the election results.
He claimed that the election commission discriminated against McIntosh's campaign by immediately disqualifying him in response to "anonymous complaints" about intimidation, then doing it again following another anonymous complaint about the glow sticks:
None of the complaints were made by students who interacted with McIntosh, and many of the accusers turned out to be supporters of Brooks or his campaign volunteers. In other words, the entire episode that initially disqualified McIntosh was dismissed as a series of dirty campaign tactics.
The glow sticks weren't even bought for the campaign video, according to Perry: They were for a "charity event prior to the campaign," and no other campaign got in trouble for unitemized "visual props" in its video.
The A&M administration would have never let stand this treatment of a gay or black candidate, Perry said:
Now, Brooks' presidency is being treated as a victory for "diversity." It is difficult to escape the perception that this quest for "diversity" is the real reason the election outcome was overturned. …

What if McIntosh had been a minority student instead of a white male? What if Brooks had been the candidate disqualified? Would the administration and the student body have allowed the first gay student body president to be voided for using charity glow sticks? Would the student body have allowed a black student body president to be disqualified on anonymous charges of voter intimidation?
McIntosh has retained "prominent College Station attorney Gaines West to represent him," the Chronicle reported this afternoon.
Perry's op-ed drew widespread attention. According to The Dallas Morning News, McIntosh's mother is a major Republican fundraiser who worked on Jeb Bush's 2016 primary campaign and Mitt Romney's 2012 presidential campaign, and Perry shows up in Facebook pictures with the mother's other children.
Read the Battalion story, Perry's op-ed and News story.
Like The College Fix on Facebook / Follow us on Twitter
IMAGE: Robert McIntosh campaign